STAR RATING

Ci's Star Rating is calculated based on the following independent metrics:
RESULTS REPORTING
Grade based on the charity's public reporting of the work it does and the results it achieves.
DEMONSTRATED IMPACT
The demonstrated impact per dollar Ci calculates from available program information.
NEED FOR FUNDING
Charity's cash and investments (funding reserves) relative to how much it spends on programs in most recent year.
CENTS TO THE CAUSE
For a dollar donated, after overhead costs of fundraising and admin/management (excluding surplus) 83 cents are available for programs.
My anchor
About Moisson Montreal:
Founded in 1984, Moisson Montreal (MML) is Canada's largest food bank. MML collects, sorts, stores, and distributes food to community agencies across Montreal. 
A Charity Intelligence 2021 Top 10 Canadian Food Bank
In F2020, MML distributed 14.3 million kilograms of food worth $81.5 million. 10.6 million kilograms went to MML's 253 community agencies that fight poverty by providing food assistance across Montreal. 3.3 million kilograms went to the other Quebec Moissons, and 362,391 kilograms went to other food banks in Canada. MML uses the NOVA index to classify the food it distributes based on the level of processing. 48% of the food MML distributed in F2020 was fresh, minimally processed, or processed culinary ingredients (up from 40% in F2019). 25% of distributed food was fruits and vegetables. In keeping with new Canada Food Guide recommendations, MML aims to increase the amount of fruits and vegetables it distributes by 40% in F2021.
According to the most recent F2019 Hunger Count, Moisson Montreal's community agencies were able to fulfill 567,317 food requests each month in F2019. This is an 11.5% decrease from 640,951 in F2018. Meal programs run by community agencies served 444,506 meals and snacks during the year. Adults are the majority of meal program users. Food pantry programs were used 122,811 times by 68,237 people. Single people make up the largest household proportion using food pantries, and 50% of households using food pantries are on welfare.
To reduce food waste in grocery stores, Moisson Montreal runs a Food Recovery in Supermarkets program (FRSP). The program saves unsold food from 100 supermarkets and redistributes it to community agencies. FRSP recovered 1.1 million kg of food in F2020, including 470,366 kg of meat. MML states that its community agencies can operate on significantly lower food purchase budgets because of these meat donations.
COVID-19 response: In April 2020, MML distributed over 1.7 million kilograms of food worth $9.9 million. This is a record monthly distribution for the charity. It includes 16,250 kilograms of food distributed to the City of Montreal's new emergency service points for homeless people. For comparison, the charity distributed $6.8 million in food in April 2019. MML reports receiving a record amount of support in response to the COVID-19 pandemic. More information on MML's ongoing COVID-19 response can be found here.
My anchor
Results and Impact
In its F2020 annual report, Moisson Montreal describes a carbon assessment that measured the impact of its food recovery and redistribution model. The assessment was done in 2018. It found that MML removes 18,000 tonnes of carbon annually, based on the amount of food the charity recovers. MML recovered 15.8 million kg of food in F2019: 74% from food producers, processors, distributors and partners, 10% from Food Banks Canada, 9% from Food Banks Quebec, and 7% from FRSP. This food was directed to people in need instead of ending up in landfills.
The F2019 Hunger Count reports that there was a 10% reduction in emergency food services offered by MML's 253 community agencies and a 4% reduction in food distributed compared to the previous year. Food pantry programs specifically have seen an 8% decrease in usage from F2018 to F2019, and meal programs served 12% fewer meals and snacks from F2018 to F2019. At the same time, 69% of MML's accredited agencies reported their food needs were met by MML, up nine percent from 60% the previous year. These changes may suggest an overall improvement in food insecurity in Montreal, although the charity notes there are many variables to consider for this trend.
Charity Intelligence has rated Moisson Montreal as Average impact based on demonstrated impact per dollar.
Impact Rating: Average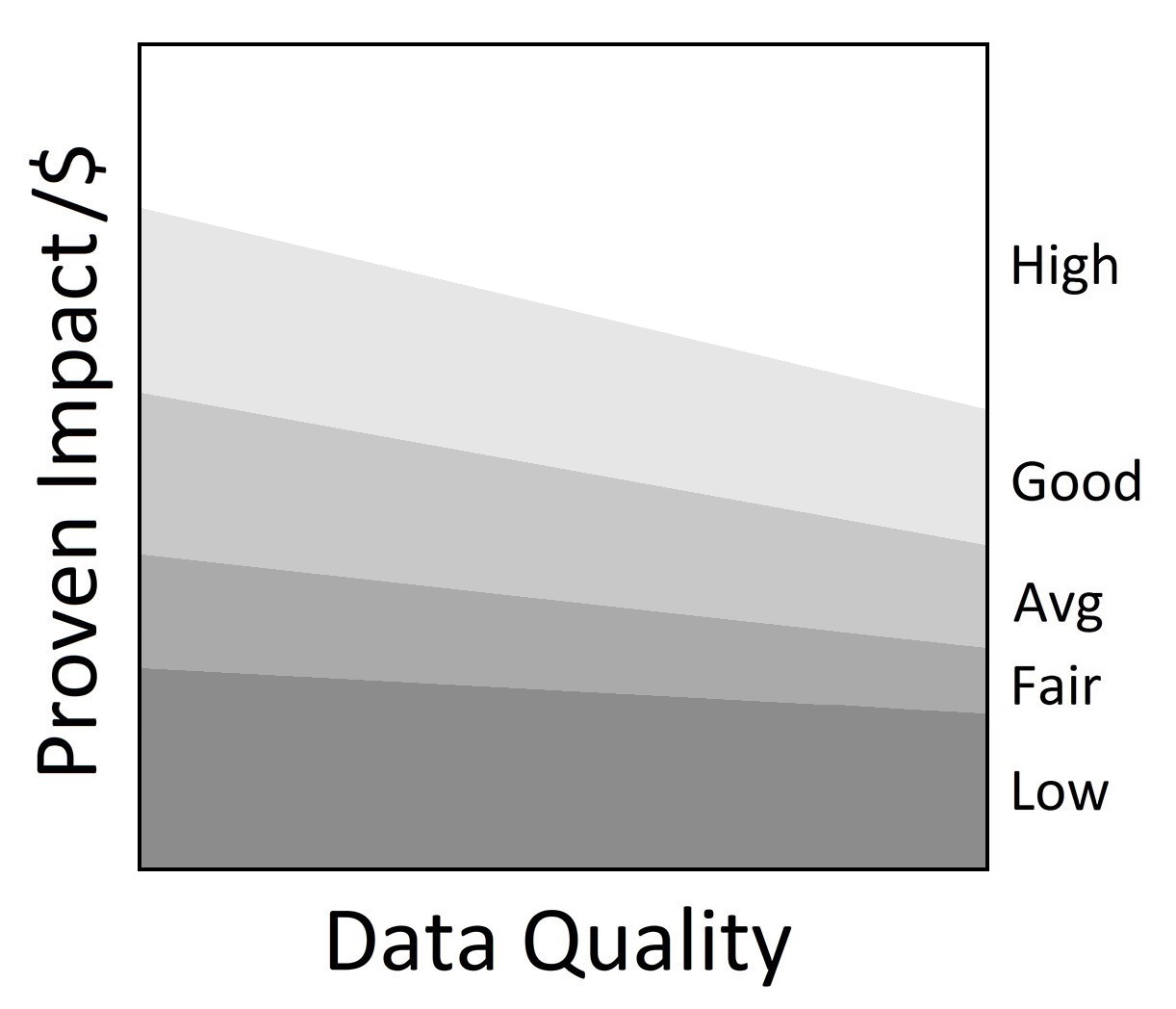 •
My anchor
Moisson Montreal is a Major 100 charity, meaning it is one of Canada's largest in terms of donations. In F2020, it received $5.3m in cash donations and special events fundraising and $80.7m in donated food. Administrative costs are 1% of revenues (excluding investment income) and fundraising costs are 16% of cash donations and special events. For every dollar donated, 83 cents go to the cause. This is within Ci's reasonable range for overhead spending. When the cost of donated food is included in donations and procurement expenses is included in fundraising costs, MML's fundraising ratio drops to 1%.
Moisson Montreal's net funding reserves of $4.4m can cover program costs for 1.4 years. This excludes the cost of food used in programs.
MML's audited financial statements disclose donations received related to COVID-19. Included in F2020 revenues are $312k in amounts received for the COVID-19 response, which the charity has transferred into a COVID-19 reserve. The charity has also deferred an additional $246k to be recognized in F2021.
This report is an update that has been sent to Moisson Montreal for review. Comments and edits may be forthcoming.
Updated on July 8, 2020 by Katie Khodawandi.
Financial Review

Financial Ratios

Fiscal year ending March

2020
2019
2018
Administrative costs as % of revenues
1.3%
1.3%
1.2%
Fundraising costs as % of donations
15.8%
16.4%
19.3%
Total overhead spending
17.0%
17.7%
20.4%
Program cost coverage (%)
137.8%
117.9%
98.5%
Summary Financial Statements

All figures in $000s

2020
2019
2018
Donations
3,330
2,979
2,520
Goods in kind
80,702
85,426
90,297
Government funding
454
488
368
Business activities (net)
465
558
495
Special events
1,923
1,778
1,568

Investment income

(26)

46

19

Total revenues

86,847

91,276

95,268

Program costs
3,204
3,191
2,850
Donated goods exp
81,543
85,206
89,314
Administrative costs
1,101
1,156
1,098
Fundraising costs
827
782
788

Other costs

428

0

0

Total spending

87,103

90,335

94,050

Cash flow from operations
(256)
941
1,218
Capital spending
211
74
10,818
Funding reserves
4,414
3,761
2,806
Note: In F2019, Moisson Montreal adopted a new accounting policy for valuating donated food and restated F2018 figures. This resulted in a $5.9m increase in food donations received, a $3.4m increase in food donations distributed by the charity, and a $1.7m loss of food as compost/waste. Ci reported food donations net of food lost as waste in donated goods in kind, decreasing total revenues and expenses by $3.4m in F2020, $3.3m in F2019, and $1.7m in F2018. As a non-cash item, Ci did not include amortization of deferred contributions related to tangible and intangible assets, decreasing total revenues by $192k in F2020, $188k in F2019 and $208k in F2018. Also a non-cash item, Ci did not include amortization of capital assets allocated to program and administrative expenses. Other costs of $428k in F2020 represent expenses associated with a major roof repair for the charity's facilities. Program cost coverage ratios do not include the cost of donated food.
Salary Information
| | |
| --- | --- |
| $350k + | 0 |
| $300k - $350k | 0 |
| $250k - $300k | 0 |
| $200k - $250k | 0 |
| $160k - $200k | 0 |
| $120k - $160k | 1 |
| $80k - $120k | 5 |
| $40k - $80k | 4 |
| < $40k | 0 |
Information from most recent CRA Charities Directorate filings for F2019