STAR RATING

Ci's Star Rating is calculated based on the following independent metrics:
RESULTS REPORTING
Grade based on the charity's public reporting of the work it does and the results it achieves.
DEMONSTRATED IMPACT
The demonstrated impact per dollar Ci calculates from available program information.
NEED FOR FUNDING
Charity's cash and investments (funding reserves) relative to how much it spends on programs in most recent year.
CENTS TO THE CAUSE
For a dollar donated, after overhead costs of fundraising and admin/management (excluding surplus) 84 cents are available for programs.
My anchor
About Big Brothers Big Sisters of Canada:
Big Brothers Big Sisters Canada is a 3-star charity with fair demonstrated impact. It is financially transparent, has overhead spending within Ci's reasonable range, and has average reporting of its results for donors. 
Founded in 1964, Big Brothers Big Sisters of Canada (BBBS) connects volunteer mentors with Canadian youth. BBBS works with kids who face barriers such as poor living conditions, family violence, mental health issues, difficulties in school, or identity challenges. Through mentorship, BBBS aims to reduce and avoid these risks to improve a child's chance of success. The charity states that it impacted over 41,000 youth across Canada in F2021.
BBBS acts as the glue of a network of local Big Brothers Big Sisters agencies, providing accreditation, national standards, policies, and a database for agency members. BBBS of Canada assists 102 local Big Brothers Big Sisters agencies, serving over 1,100 Canadian communities. BBBS collects fees from these agencies and assists them in running programs. BBBS also distributes grants to its agencies, awarding $3.6m in F2021. 
Through its agencies, BBBS runs one-to-one mentoring programs. Caseworkers match kids with volunteer mentors based on common interests. Mentors and mentees meet at least twice a month for a minimum of one year. One-to-one mentoring is also offered in schools where volunteers spend an hour each week reading, playing board games, or doing crafts with students.
BBBS also offers two group programs: Go Girls! and Game On!, which teach teenagers about healthy lifestyles and promote physical activity, balanced eating, self-esteem, positive communication, and emotional health. Go Girls! is a 7–10-week program for girls aged 12-14, with sessions lasting 90 to 120 minutes. Game On! is a seven-session program for boys, with each session lasting 75 minutes.
My anchor
Results and Impact
In 2013, Boston Consulting Group (BCG) completed a pro-bono study that evaluated the impact of BBBS's one-to-one mentoring program. The study compared adults who participated in one-to-one programs when they were kids to those who did not. BCG found that every $1 invested in the program generates a $23 return to society. BCG also found that past mentees are 17% more likely to be employed and earn 13% more, leading to a $315,000 increase in earnings over their lifetime.
Big Brothers Big Sisters Canada reports that 70% of its mentees who had regular contact with mentors during the pandemic reported feeling less worried or anxious compared to non-mentored youth.
While Charity Intelligence highlights these key results, they may not be a complete representation of Big Brothers Big Sisters Canada's results and impact.
Charity Intelligence gave Big Brothers Big Sisters Canada an impact rating of Fair for demonstrated social impact per dollar spent.
Impact Rating: Fair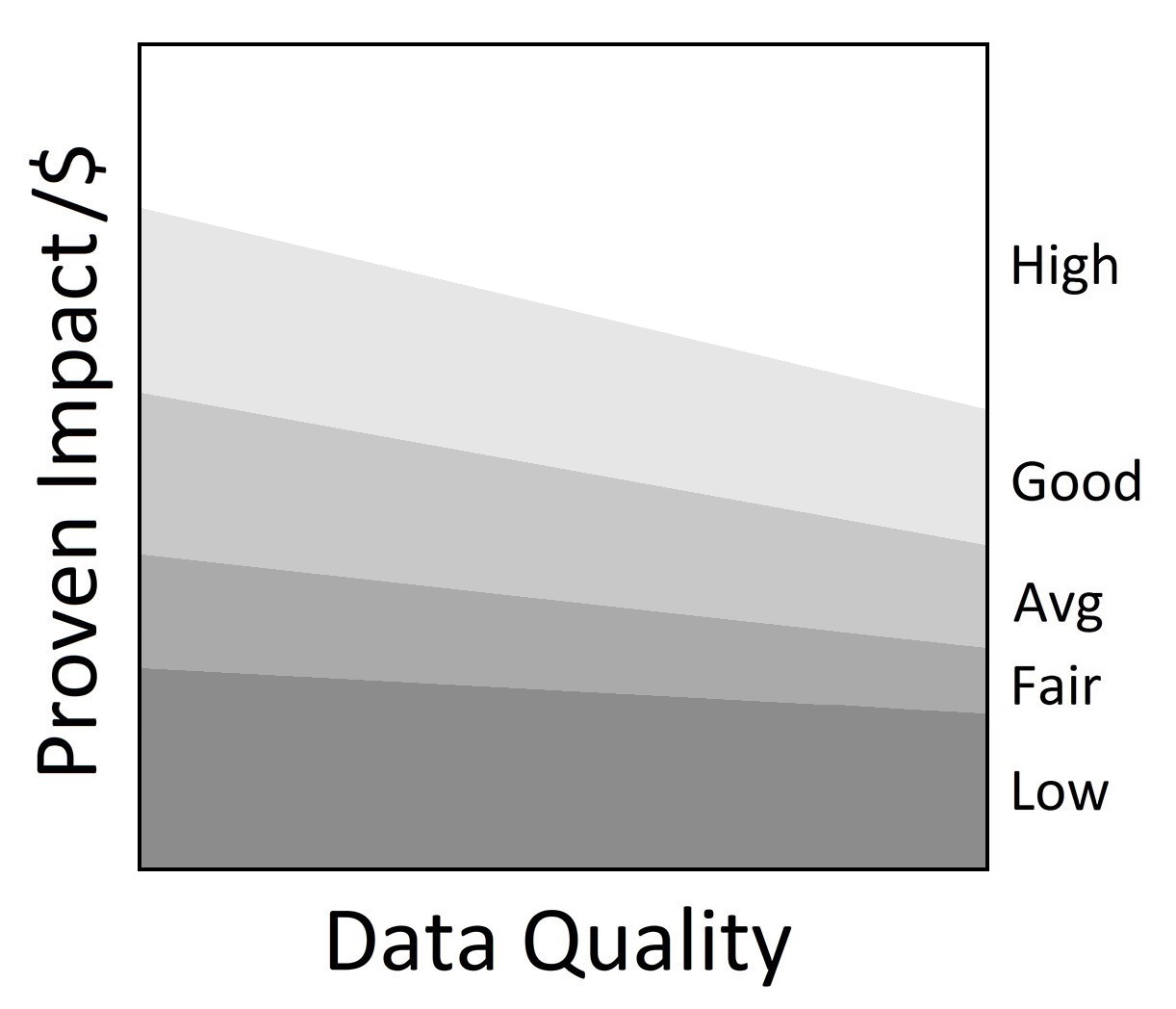 •
My anchor
In F2021, Big Brothers Big Sisters Canada had total donations of $2.8m. The charity also received $5.2m in government funding, representing 59% of total revenues. Administrative costs are 7% of revenues (less investment income), and fundraising costs are 9% of donations. This results in total overhead spending of 16%. For every dollar donated, 84 cents go to the cause, which is within Ci's reasonable range for overhead spending.
BBBS has $6.0m in funding reserves, which could cover 78% or nine months of annual program costs.
Big Brothers Big Sisters Canada had a separate foundation. This foundation did not have material assets and Ci's analysis has not consolidated it with Big Brothers Big Sisters Canada in this review. The separate foundation was wound up in July 2022. 
This charity report is an update that has been sent to Big Brothers Big Sisters Canada for review. Comments and edits may be forthcoming.
Updated on July 22, 2022, by Sydney Olexa.
Financial Review

Financial Ratios

Fiscal year ending December

2021
2020
2019
Administrative costs as % of revenues
7.3%
6.4%
8.6%
Fundraising costs as % of donations
8.9%
6.0%
5.8%
Total overhead spending
16.2%
12.5%
14.4%
Program cost coverage (%)
78.1%
44.5%
45.7%
Summary Financial Statements

All figures in $000s

2021
2020
2019
Donations
2,795
2,512
2,721
Government funding
5,174
5,107
2,886
Fees for service
842
830
986

Investment income

18

1

110

Total revenues

8,829

8,450

6,702

Program costs
4,071
4,529
3,372
Grants
3,587
2,739
2,420
Administrative costs
639
543
567

Fundraising costs

250

151

158

Total spending

8,547

7,963

6,517

Cash flow from operations
283
486
185
Capital spending
3
2
18
Funding reserves
5,981
3,236
2,645
Note: Ci reported unrealized gains (loss) on investments as revenues rather than expenses, affecting total revenues and expenses by $nil in F2021, $nil in F2020, and $62k in F2019.  
Salary Information
| | |
| --- | --- |
| $350k + | 0 |
| $300k - $350k | 0 |
| $250k - $300k | 0 |
| $200k - $250k | 0 |
| $160k - $200k | 1 |
| $120k - $160k | 4 |
| $80k - $120k | 5 |
| $40k - $80k | 0 |
| < $40k | 0 |
Information from most recent CRA Charities Directorate filings for F2021