STAR RATING

Ci's Star Rating is calculated based on the following independent metrics:
RESULTS REPORTING
Grade based on the charity's public reporting of the work it does and the results it achieves.
DEMONSTRATED IMPACT
The demonstrated impact per dollar Ci calculates from available program information.
NEED FOR FUNDING
Charity's cash and investments (funding reserves) relative to how much it spends on programs in most recent year.
CENTS TO THE CAUSE
For a dollar donated, after overhead costs of fundraising and admin/management (excluding surplus) 90 cents are available for programs.
My anchor
About Big Brothers Big Sisters Toronto:
Founded in 1913, Big Brothers Big Sisters Toronto (BBBST) connects children and youth with adult mentors. Children who struggle socially, academically, or developmentally are referred to BBBST by a guardian or social service provider. In 2020, 555 BBBST volunteers mentored 1,025 children and youth through Core Mentoring and Group Mentoring programs. The charity does not provide a breakdown of spending on its programs.
BBBST's Core Mentoring programs provide one-on-one mentoring for children and youth. An adult mentor is matched with a mentee based on shared interests, experiences, and availability. The pair meets eight hours per month for cultural, recreational, and artistic activities such as cooking, hearing a symphony, or going to a zoo, museum, or science centre. Variations of the traditional one-on-one model involve a romantic couple mentoring a single child, in-school mentoring based on reading and games, or a mentee who needs transportation to and from organized sports. In F2020, BBBST made 153 new matches.
In addition to one-on-one mentoring, BBBST also offers Group Mentoring programs. Groups of girls aged 10-14 meet weekly for the Go Girls! program, where two trained mentors present a curriculum designed to increase self-esteem, relationship skills, and conflict resolution. Similarly, boys aged 11-14 participate in Game On!, which teaches boys about gender and masculinity, anti-violence, healthy minds, relationships, and problem solving. Young immigrants to Canada can join the Newcomers Bridging Program, where they are supported in adjusting to life in a different country. Finally, the Pumped for Post-Secondary program provides high school students with guidance as they plan for transitioning to higher education.
My anchor
Results and Impact
In 2013, Boston Consulting Group (BCG) completed a study on the economic impact of Big Brothers Big Sisters Canada's One-to-One Mentorship. BCG reports that for every $1 used in BBBS programming, $18-$23 is returned to society. 
BBBST reports that its mentorship programs help mentees succeed in school, maintain good health, develop leadership skills, overcome conflicts, and help others. When past mentees were surveyed, 93% reported motivation to do well in school, 93% said they have positive self-esteem, 23% reported increased ability to plan and make decisions, 89% said they can resolve conflicts, and 93% said it is important to help others.
While Charity Intelligence highlights these key results, they may not be a complete representation of Big Brothers Big Sisters Toronto's results and impact.
Charity Intelligence has evaluated Big Brothers Big Sisters Toronto and found the charity to have Average demonstrated social impact per dollar spent.
Impact Rating: Average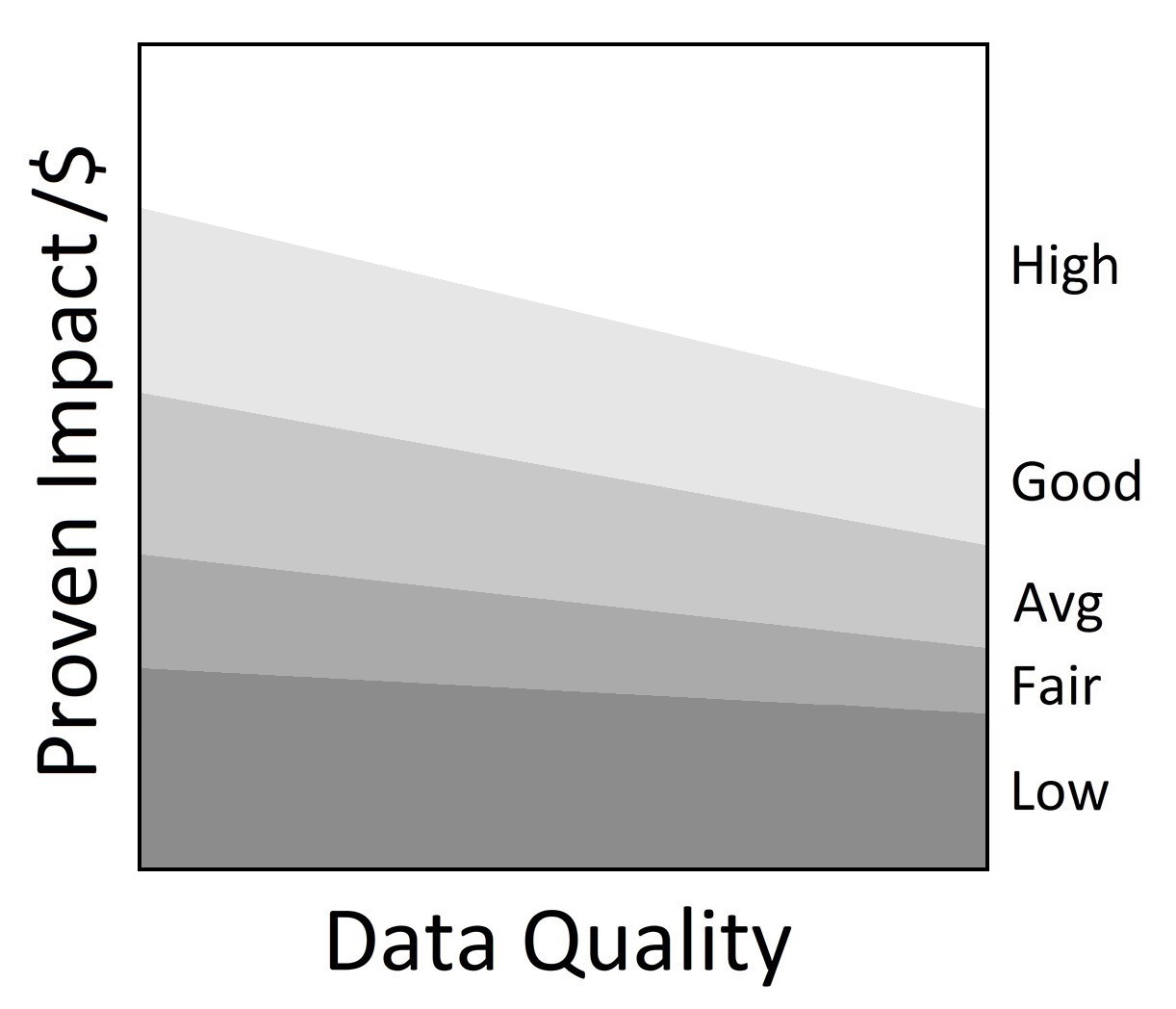 •
My anchor
In F2020, Big Brothers Big Sisters Toronto received total donations and special events revenues of $2.0m. Administrative costs are 7% of revenues (less investment income) and fundraising costs are 3% of donations. This results in total overhead spending of 10%. For every dollar donated, 90 cents go to the cause, which is within Ci's reasonable range for overhead spending.
BBBST does not provide a breakdown of administrative and fundraising costs on its audited financial statements. In the past, Ci reported overhead spending from the charity's T3010 filings with the CRA. In these years, BBBST's overhead spending was consistently outside Ci's reasonable range (43% in F2019, 44% in F2018, 46% in F2017). BBBST's F2020 T3010 filing is not available at the time of this report and could not be used in Ci's analysis. As a result, overhead spending in F2020 is likely understated.
BBBST has $1.2m in funding reserves, once $56k in long-term debt is accounted for. The charity could cover 56% or almost seven months of annual program costs with reserves.
This charity report is an update that has been sent to Big Brothers Big Sisters Toronto for review. Changes and edits may be forthcoming.
Updated on August 25, 2021 by Sydney Olexa.
This report is generously funded by the E.W. Bickle Foundation.
Financial Review

Financial Ratios

Fiscal year ending December

2020
2019
2018
Administrative costs as % of revenues
6.9%
9.0%
20.8%
Fundraising costs as % of donations
3.2%
33.8%
23.7%
Total overhead spending
10.1%
42.7%
44.4%
Program cost coverage (%)
55.5%
61.0%
57.4%
Summary Financial Statements

All figures in $s

2020
2019
2018
Donations
1,803,608
1,334,870
1,299,340
Government funding
764,736
406,823
126,247
Special events
157,151
1,241,339
1,391,119
Investment income
7,235
78,125
(24,867)

Other income

5,197

67,508

47,963

Total revenues

2,737,927

3,128,665

2,839,802

Program costs
2,186,883
1,694,305
1,607,156
Donor-designated donations
65,166
77,548
114,619
Administrative costs
187,717
273,941
594,819
Fundraising costs
62,989
869,377
636,549

Other costs

1,838

0

0

Total spending

2,504,593

2,915,171

2,953,143

Cash flow from operations
233,334
213,494
(113,341)
Capital spending
164,165
10,186
0
Funding reserves
1,214,647
1,033,293
922,549
Note: In F2019 and F2018, Ci reported fundraising and administrative costs from the charity's T3010 filings with the CRA,  as this information is not presented in its audited financial statements. 
Salary Information
| | |
| --- | --- |
| $350k + | 0 |
| $300k - $350k | 0 |
| $250k - $300k | 0 |
| $200k - $250k | 1 |
| $160k - $200k | 0 |
| $120k - $160k | 1 |
| $80k - $120k | 1 |
| $40k - $80k | 7 |
| < $40k | 0 |
Information from most recent CRA Charities Directorate filings for F2019