STAR RATING

Ci's Star Rating is calculated based on the following independent metrics:
FINANCIAL TRANSPARENCY
Audited financial statements available only through official request for information from Charities Directorate.
RESULTS REPORTING
Grade based on the charity's public reporting of the work it does and the results it achieves.
DEMONSTRATED IMPACT
The demonstrated impact per dollar Ci calculates from available program information.
NEED FOR FUNDING
Charity's cash and investments (funding reserves) relative to how much it spends on programs in most recent year.
CENTS TO THE CAUSE
For a dollar donated, after overhead costs of fundraising and admin/management (excluding surplus) 92 cents are available for programs.
My anchor
About A Better World Canada:
Founded in 1990, A Better World Canada aims to inspire people to reduce poverty around the world. It has helped to fund development projects in more than 15 countries. In F2020, A Better World reported program spending in Afghanistan, Bolivia, Dominica, Ghana, India, Kenya, Rwanda, Thailand, and Tanzania. Its office is in Lacombe, Alberta.
A Better World runs three main programs: Education, Health, and Water.
Education represented 50% of program costs in F2020. A Better World helps to build classrooms and school buildings in developing countries. In F2020, it built 23 classrooms, 59 school toilets, 1 administration building, and 2 teachers' offices. The charity reports that it has built or renovated 1,128 classrooms since founding, helping to enroll 50,760 students in school.
Health projects were 34% of program spending. A Better World funds medical teams that travel to local communities twice per year to treat patients and train health workers. In F2020, it helped to provide 62 surgeries, including postoperative care. It also built one new rehabilitation clinic during the year. Since founding, A Better World states that it has built or upgraded 16 health clinics.
Water projects were 4% of program spending. The charity aims to provide communities with clean water by drilling wells and installing water catchment systems. In F2020, it installed 15 new water catchment systems.
The remaining 12% of program costs included program delivery and operating costs (10%) and local projects (2%).
My anchor
Results and Impact
Since founding, A Better World has provided 29 communities with clean water. It also reports that its medical services and clinics help more than 40,000 people each year.
While Ci highlights these key results, they may not be a complete representation of A Better World Canada's results and impact.
Charity Intelligence has given A Better World Canada a Low impact rating based on demonstrated impact per dollar spent.
Impact Rating: Low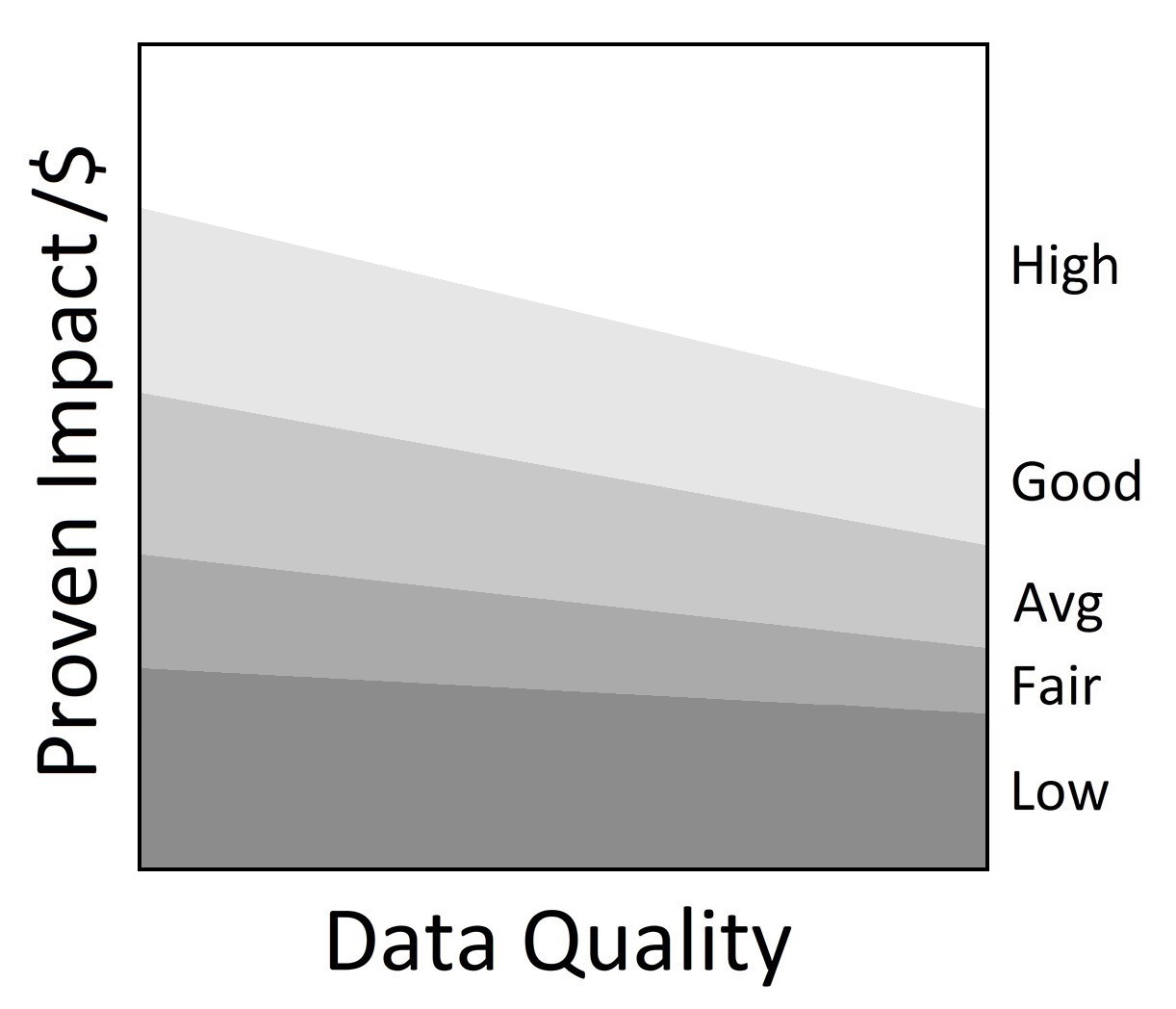 •
My anchor
Charity Intelligence has scored A Better World as a zero in financial transparency since the charity refused to provide financial statements upon request. All financial information is from the charity's unaudited T3010 filings with the CRA.
A Better World received $1.2m in Canadian donations in F2020. It also received $279k in international donations, $94k in sponsored travel expenses, and $17k in government funding during the year. Administrative costs are 6% of revenues (less investment income) and fundraising costs are 3% of Canadian donations. This results in total overhead spending of 8%. For every dollar donated to the charity, 92 cents go to the cause. This is within Ci's reasonable range for overhead spending.
A Better World has $1.6m in funding reserves, which can cover 1.8 years of annual program costs. The charity's program cost coverage ratio spiked in F2020 since its revenues exceeded expenses by $641k, increasing funding reserves as a result. According to its annual report, A Better World decided to postpone certain projects and reduce program spending due to the covid-19 pandemic. It states that it has reserved 39% of F2020 revenues, roughly equal to $641k, for resuming these projects in 2021.
Charity Intelligence has sent this update to A Better World Canada for review. Changes and edits may be forthcoming.
Updated on August 5, 2021 by Eric Zhao.
Financial Review

Financial Ratios

Fiscal year ending December

2020
2019
2018
Administrative costs as % of revenues
5.7%
5.5%
4.9%
Fundraising costs as % of donations
2.5%
2.8%
2.6%
Total overhead spending
8.2%
8.3%
7.4%
Program cost coverage (%)
180.2%
76.1%
35.8%
Summary Financial Statements

All figures in $s

2020
2019
2018
Donations
1,246,315
1,297,714
1,663,937
International donations
278,916
144,156
128,392
Goods in kind
93,573
73,547
203,141
Government funding
16,726
0
0
Investment income
7,200
3,261
986

Other income

0

53,490

7,818

Total revenues

1,642,730

1,572,168

2,004,274

Program costs - International
838,045
1,245,077
2,071,653
Grants
39,350
4,650
23,496
Administrative costs
93,189
86,495
98,003
Fundraising costs
31,617
36,471
42,449

Other costs

0

0

5,601

Total spending

1,002,201

1,372,693

2,241,202

Cash flow from operations
640,529
199,475
(236,928)
Capital spending
0
0
0
Funding reserves
1,581,000
951,589
750,142
Note: Ci gathered all financial information from the charity's unaudited filing with the CRA. Ci reported sponsored travel costs as goods in kind and removed the amounts from donations. In F2020, the charity completed its T3010 filing incorrectly, with its total spending equalling $71k less than the sum of its reported program, grant, administrative, and fundraising costs. Ci reduced program costs by grants ($39k) and fundraising costs ($32k) to correct for this discrepancy.
Salary Information
| | |
| --- | --- |
| $350k + | 0 |
| $300k - $350k | 0 |
| $250k - $300k | 0 |
| $200k - $250k | 0 |
| $160k - $200k | 0 |
| $120k - $160k | 0 |
| $80k - $120k | 0 |
| $40k - $80k | 1 |
| < $40k | 0 |
Information from most recent CRA Charities Directorate filings for F2020