STAR RATING

Ci's Star Rating is calculated based on the following independent metrics:
RESULTS REPORTING
Grade based on the charity's public reporting of the work it does and the results it achieves.
DEMONSTRATED IMPACT
The demonstrated impact per dollar Ci calculates from available program information.
NEED FOR FUNDING
Charity's cash and investments (funding reserves) relative to how much it spends on programs in most recent year.
CENTS TO THE CAUSE
For a dollar donated, after overhead costs of fundraising and admin/management (excluding surplus) 67 cents are available for programs.
My anchor
About Big Brothers Big Sisters of Calgary and Area:
Big Brothers Big Sisters of Calgary and Area is a top-rated, 5-star charity. It is financially transparent and has Average demonstrated impact. It has an excellent results reporting grade and its overhead spending is within Ci's reasonable range. Big Brothers Big Sisters of Calgary and Area has $2.5m in reserve funds which can cover one year of annual program costs.
Founded in 1994, Big Brothers Big Sisters of Calgary and Area (BBBSC) helps young people realize their full potential through mentoring. BBBSC assists young people who report Adverse Childhood Experiences (ACEs). ACEs are potentially traumatic events that occur in childhood, including abuse, neglect, substance abuse, household violence, mental health issues, divorce, and imprisonment or death of a family member.
BBBSC reports that having one ACE increases the chances of having another one by 84%. It adds that children with ACEs are more likely to experience mental health issues or substance dependence later in life. The charity states that, according to Canadian Institute for Health Information (2022), a quarter of child hospitalizations in 2020 were related to mental health conditions. BBBSC found that 45% of children and youth that filled out its intake ACEs questionnaire experience mental health disorders. The charity adds that, according to Statistics Canada (2021), nearly a quarter of youth aged 15 to 24 are experiencing loneliness. The charity's intake ACEs questionnaire found that 61% of respondents face social isolation. A StatsCan survey (2019) found that 7 in 10 youth aged 12 to 17 report experiencing bullying within the last year. Similarly, 71% of BBBSC's intake ACEs questionnaire participants report experiencing bullying.
To tackle these issues, BBBSC runs two main programs: mentoring in the community and mentoring in school. The charity does not state how much it spends on each program. In both programs, children build one-on-one relationships with their mentors through shared activities and time spent together. Community mentoring for youth aged six to 24 occurs on evenings and weekends. Mentees and mentors meet weekly for one year and engage in activities like sports, cooking and cultural events. School mentoring occurs during school hours for children aged six to 12. Students meet with mentors weekly for one year and engage in educational activities like puzzles, board games and science experiments.
In F2023, BBBSC reports creating 886 matches between mentors and mentees, 71 more than in F2022. Of these matches, 515 were in school programs and 371 were in community-based programs. 80% of matches were in Calgary and the other 20% were in Airdrie, Cochrane, Rockyview, Okotoks and Foothills.
The charity served 824 children of which 459 were in school-based programs and 365 were in community-based programs. 68% of the charity's mentees are five to 12 years old and 32% are 13 to 24 years old. In addition, 53% of mentees are ethnic minorities and 1% are Indigenous. The charity benefited from 34,479 volunteer hours during F2023.
Big Brothers Big Sisters of Calgary and Area reports that, according to Canadian Children's Literacy Foundation (2022), over one million children in Canada do not have sufficient literary skills, a statistic made worse by the pandemic. To address this, in January 2022, the charity adopted the wee read program through the "Dandelion Project". The program focuses on implementing reading activities during weekly mentoring sessions to help develop children's reading confidence. The program is still in its preliminary stages.
My anchor
Results and Impact
In F2023, Big Brothers Big Sisters of Calgary and Area surveyed mentees to assess the change in their Social Emotional Competencies. Social Emotional Competencies include self-management, personal responsibility, social awareness and relationship skills. The survey revealed that of the 100 mentees surveyed, 77% had improved decision-making skills, compared with 37% of survey respondents in 2020. In addition, 89% had improved social awareness, compared with 41% in 2020, and 79% had improved relationship skills, compared with 43% in 2020.
In addition, the survey showed that 91% of mentees said their mentors help them live up to their potential, take responsibility and learn from their mistakes. 87% said their mentors help guide them through tough situations and build their confidence.
BBBSC reports that Boston Consulting Group (BCG) undertook a study that compares outcomes of children who participated in community one-on-one programs with those who did not. The charity reports that, among low-income groups, $1 invested in mentoring by Big Brothers Big Sisters returns $23 to society. It is unclear when BCG determined these results.
While Charity Intelligence highlights these key results, they may not be a complete representation of Big Brothers Big Sisters of Calgary and Area's results and impact.
Charity Intelligence has rated Big Brothers Big Sisters of Calgary and Area as Average impact based on demonstrated impact per dollar spent.
Impact Rating: Average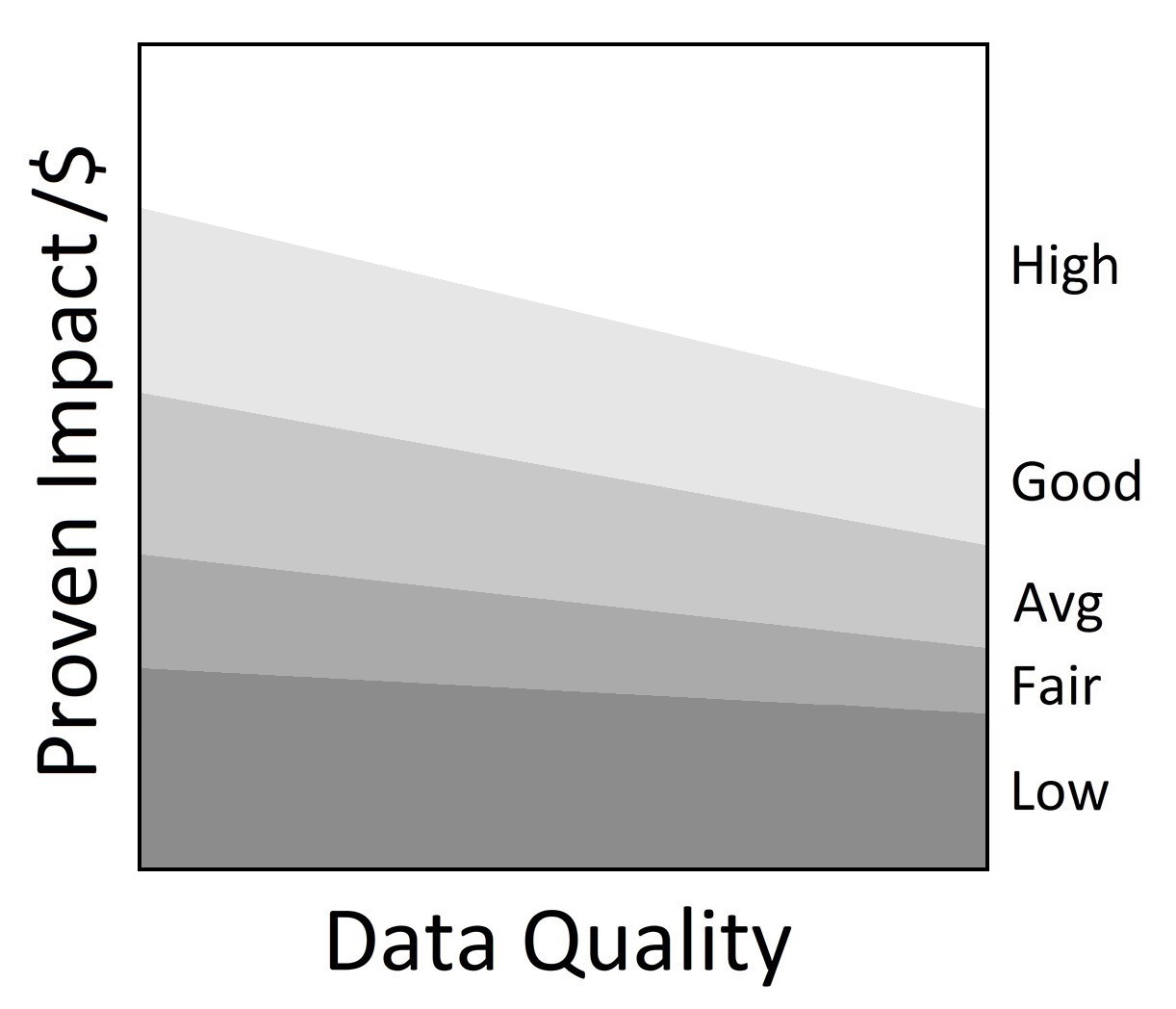 •
My anchor
In F2023, Big Brothers Big Sisters of Calgary and Area had total donations and special events revenue of $1.8m. The charity also received $1.2m in government funding, representing 40% of total revenue. Administrative costs are 15% of revenues (less investment income), and fundraising costs are 19% of donations. This means that for every dollar donated, 67 cents are available for programs, which is within Ci's reasonable range for overhead spending.
BBBSC has $2.5m in reserve funds, which could cover 101% or a year of annual program costs.
At the time of this profile update, the charity's F2023 T3010 filing with the CRA is not publicly available. As such, the most recent staff compensation information is from F2022.
Ci has sent this profile update to Big Brothers Big Sisters of Calgary and Area for review. Changes and edits may be forthcoming.
Updated on August 15, 2023 by Victoria Allder
Financial Review

Financial Ratios

Fiscal year ending March

2023
2022
2021
Administrative costs as % of revenues
14.5%
12.1%
7.7%
Fundraising costs as % of donations
19.0%
22.1%
20.7%
Total overhead spending
33.4%
34.2%
28.4%
Program cost coverage (%)
101.1%
114.2%
95.9%
Summary Financial Statements

All figures in $s

2023
2022
2021
Donations
1,033,898
887,921
990,856
Goods in kind
51,730
66,417
71,349
Government funding
1,223,611
1,947,935
2,533,866
Lotteries (net)
0
(10,653)
0
Business activities (net)
0
53,192
0
Special events
722,243
796,065
546,252

Investment income

51,303

6,190

5,599

Total revenues

3,082,785

3,747,067

4,147,922

Program costs
2,450,294
2,370,369
2,351,935
Donated goods exp
51,730
66,417
71,349
Administrative costs
438,425
452,417
318,839
Fundraising costs
333,102
371,449
318,839

Other costs

12,330

13,933

7,905

Total spending

3,285,881

3,274,585

3,068,867

Cash flow from operations
(203,096)
472,482
1,079,055
Capital spending
0
0
0
Funding reserves
2,476,602
2,707,868
2,255,773
Note: In F2022 and F2021, Ci reported administrative and fundraising costs from the charity's T3010 filings with the CRA. Since the F2023 T3010 is not available at the time of this profile update, this adjustment could not be made for the most recent year. In F2022, Ci backed out auction and lottery revenue from fundraising and added it to lottery revenue. Ci reported net lottery and auction revenue, reducing revenue and expenses by $74k in F2022. Ci adjusted for government and non-government deferred revenue. This affected donations by $26k in F2023, $49k in F2022 and $16k in F2021 and government funding by ($212k) in F2023, ($153k) in F2022 and $180k in F2021.
Salary Information
| | |
| --- | --- |
| $350k + | 0 |
| $300k - $350k | 0 |
| $250k - $300k | 0 |
| $200k - $250k | 0 |
| $160k - $200k | 0 |
| $120k - $160k | 1 |
| $80k - $120k | 4 |
| $40k - $80k | 5 |
| < $40k | 0 |
Information from most recent CRA Charities Directorate filings for F2022