STAR RATING

Ci's Star Rating is calculated based on the following independent metrics:
RESULTS REPORTING
Grade based on the charity's public reporting of the work it does and the results it achieves.
DEMONSTRATED IMPACT
The demonstrated impact per dollar Ci calculates from available program information.
NEED FOR FUNDING
Charity's cash and investments (funding reserves) relative to how much it spends on programs in most recent year.
CENTS TO THE CAUSE
For a dollar donated, after overhead costs of fundraising and admin/management (excluding surplus) 65 cents are available for programs.
My anchor
About WE Charity:
Due to irreparable harm from the fallout of the WE Charity scandal, WE Charity announced it is closing the Canadian WE Charity. The US and UK  WE Charities continue. WE Charity was a one-star-rated charity.
WE Charity (first known as Free the Children) was co-founded in 1995 by Canadian teenagers Craig and Marc Kielburger. WE Charity's mission was to empower students by giving them and their teachers the tools to create transformative social change. WE Charity rose to global fame. WE Charity and Craig Kielburger were on the Oprah show and CBS' 60 minutes.
WE Charity grew and became a global children's charity with development programs in Africa, Ecuador, Haiti, India, and China. WE Charity's international development followed a holistic and sustainable model designed to empower communities to lift themselves out of poverty. WE Charity also ran youth volunteering programs in schools. In 2009, WE Days began. These were massive youth rallies in Canada featuring celebrities and spokespeople to motivate and empower youth to change the world. Students and celebrities alike volunteered in communities and traveled overseas.
The covid-19 pandemic severely disrupted WE Charity's operations. Covid-19 canceled WE Days and overseas student trips. On top of the covid-19 pandemic, WE Charity became embroiled in parliamentary investigations known as the WE Charity Scandal. This was one of Canada's largest news stories of 2020.
WE Charity is currently suing CBC's Fifth Estate, Canada's premier weekly news report, for its investigative look into donor deception. The mother of WE Charity's co-founders is suing Canada's highly-rated podcast, White Saviours. WE Charity's lawyers have corresponded with Charity Intelligence. Please appreciate our report sticks simply to facts.
DONOR ADVISORY: Charity Intelligence issued a donor advisory on July 17, 2020, reflecting WE Charity Canada's turnover in directors. New information came to light about its unique governance structure and the control of the co-founders. WE Charity Canada appointed four new directors in March 2020. WE Charity's board changed again in March 2021 when three of the four newly-appointed directors stepped down in March 2021. Greg Rogers remains as board chair.
In F2021, for the year ending August, WE Charity has two main programs: Canadian youth programs and international development projects. 
In F2021, WE Charity spent $11.8m on Canadian programs. In these Canadian program costs, office costs are the largest. WE Charity spent $7.5m on office costs. Canadian program staff costs were $4.2m ($13.3m in F2020). According to WE Charity's T3010 annual returns, it paid $9.3m in professional fees in F2021 and $8.0m in F2020, including legal costs. Office costs in F2020 were $9.1m. These office costs may include the $5m cost of the Canada Summer Student Grant program that WE Charity incurred and was not reimbursed for by the government.
In F2021, WE Charity reported spending of $14.1m on international programs. This may include the value of donated goods used in programs ($8.5m), which Ci has adjusted for. Kenya alone accounts for 91% of international spending in F2021. Donations went overseas to WE Villages, communities supported through WE Charity's five pillars of development: Education, Water, Health, Food, and Opportunity. WE Charity states that targeting these five areas helps address the root causes of poverty and achieve holistic development. WE Charity's largest international region is Africa (Kenya and Tanzania), where it spent $12.0m. In F2021, there was no spending in other African countries. WE Charity spent $830k in Latin America (Ecuador, Haiti, and Nicaragua) and $316k in Asia (India and China). 
Other Charity Intelligence reports:
WE Charity Closing, the details, June 2022
WE Charity Foundation; the legacy continues, June 2022
My anchor
Results and Impact
WE Charity has not posted an annual report for 2021, 2020, or 2019. Most of these results refer to a report from 2018.
Charity Intelligence has given WE Charity a Low impact rating based on demonstrated impact per dollar spent.
The charity reports that 78% of educators feel more professionally fulfilled because of their involvement with WE Schools. WE Charity also reports that 82% of educators have identified opportunities for their students because of WE Schools.
WE Charity helped 44 high school students graduate from its Kisaruni Group of Schools in Kenya in 2018. During the year, it also reached more than 200 Kenyan women by opening a new Women's Empowerment Centre. The centre includes a computer lab, banking facility, artisan production space, and daycare.
Since its founding, WE Charity reports it has provided more than one million people with clean water and sanitation and helped 200,000 children access education. Since 2011, WE Charity has spent $167m on its international programs. WE Charity reported it had built over 1,500 classrooms and schools (WE Charity's 2018 annual report). In Kenya, WE Charity reports it has built over 850 school rooms, libraries, teachers' offices and kitchens (WE Charity's 2018 annual report). Given the amount of money spent, legitimate questions are asked about WE Charity's "outputs."
While Ci highlights these key results, they may not be a complete representation of WE Charity's results and impact.
Impact Rating: Low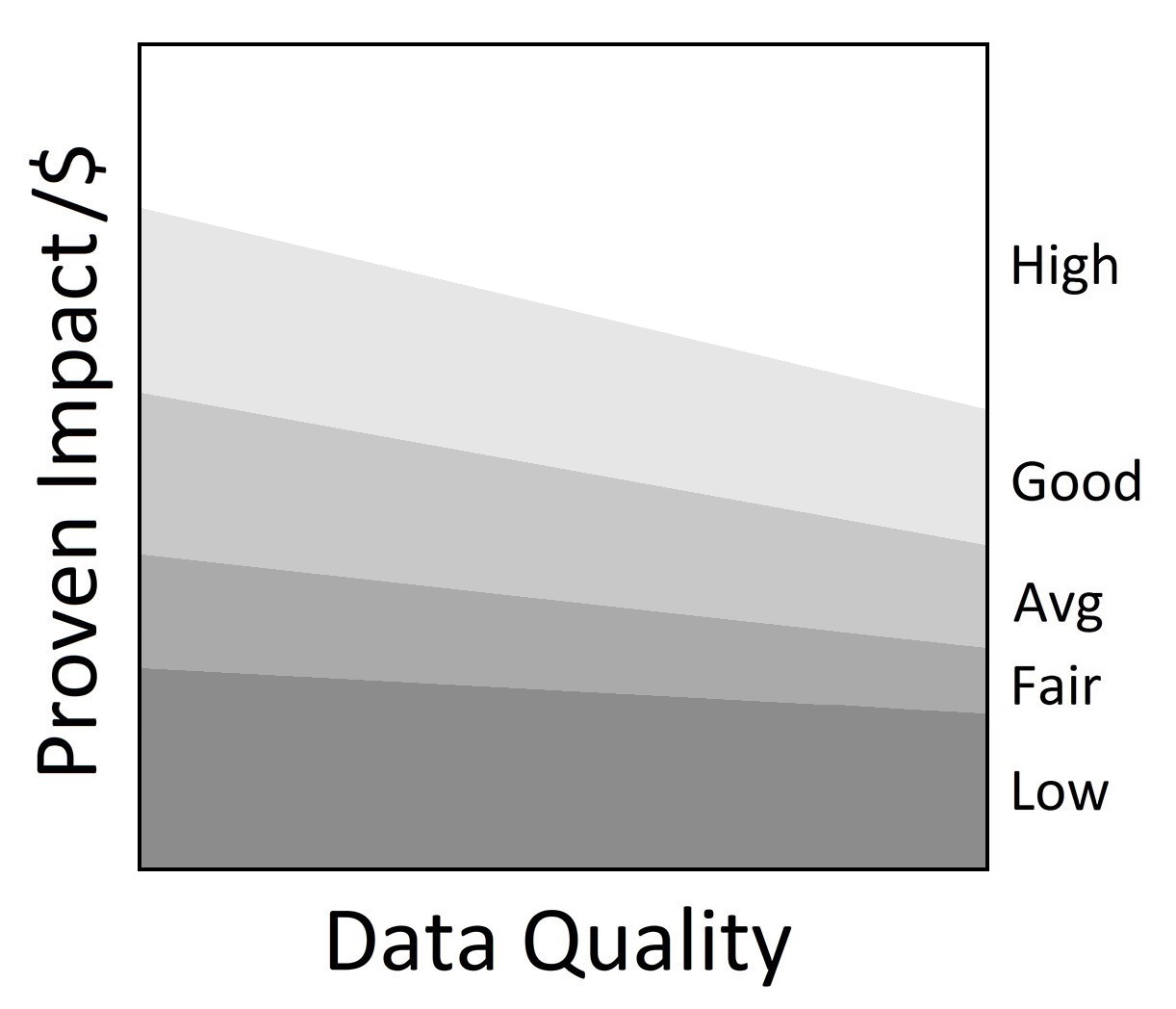 •
My anchor
WE Charity received $2.1m in donations, principally from private grants. WE Charity Canada received $6.7m from its international WE Charities in the US and UK. Included in donations is $342k from Canadian charities that share WE Charity's mission. Of the $3.1m in government funding, $2.8m was covid-19 support provided to all charities. WE Charity uses the deferred accounting method. With the winding down of Canadian operations, its accounting recognized donations received in past years. $15.9 million of prior donations (deferred contributions) were recognized in F2021. We have excluded this non-cash adjustment (write-off) from our analysis.
WE Charity's administrative costs are 9% of revenues (less investment income), and fundraising costs are 26% of Canadian donations. This results in total overhead spending of 35%. For every dollar donated, 65 cents go to the cause. This falls within Ci's reasonable range for overhead spending.
WE Charity ended August 2021 with $2.7m in funding reserves. During F2021, WE Charity repaid all its bank loans of $14.0m. In August 2021, WE Charity sold its Toronto real estate for $29.2m. This was less than its book value, resulting in a $5.3m write-down.
WE Charity's audited financial statements disclose related party transactions: WE Charity paid $7k to We365 Holdings Inc. for support for Canadian programs in F2021, down significantly from $1.2m in F2020. WE Charity owns We365 Holdings Inc. WE Charity received $58k in contributions from ME to WE in F2021, down significantly from $1.9m in F2020.  
There are many WE Charity-related foundations. WE Charity's audited financial statements are not consolidated. They only report on WE Charity Canada's operations.
Due to the public interest in WE Charity and also since its website had not been updated with the most recent audited financial statements, here are WE Charity's audited financials:
For fiscal year ending August 2021
For fiscal year ending August 2020
For fiscal year ending August 2019
Charity Intelligence has sent this update to WE Charity for review. Changes and edits may be forthcoming.
Updated on June 9, 2022 by Ann Lei and Kate Bahen.
Financial Review

Financial Ratios

Fiscal year ending August

2021
2020
2019
Administrative costs as % of revenues
8.7%
3.1%
5.7%
Fundraising costs as % of donations
26.1%
2.8%
6.5%
Total overhead spending
34.8%
5.9%
12.2%
Program cost coverage (%)
9.6%
(5.1%)
(4.6%)
Summary Financial Statements

All figures in $000s

2021
2020
2019
Donations
2,063
24,818
33,150
International donations
6,738
27,534
22,088
Goods in kind
8,486
5,194
8,475
Government funding
3,060
6,677
1,580
Investment income
(89)
(68)
13

Other income

(266)

(68)

(84)

Total revenues

19,992

64,086

65,221

Program costs - International
5,676
23,869
26,761
Program costs - Canada
11,831
28,121
23,729
Grants
10,170
0
400
Donated goods exp
8,486
5,194
8,475
Administrative costs
1,738
1,983
3,689
Fundraising costs
539
692
2,161

Other costs

464

602

627

Total spending

38,903

60,460

65,841

Cash flow from operations
(18,911)
3,626
(620)
Capital spending
(28,985)
161
(1,630)
Funding reserves
2,665
(2,643)
(2,212)
Note: Ci adjusted for amortization of deferred capital contributions affecting revenues by ($15.9m) in F2021, ($664k) in F2020, and ($720k) in F2019. In F2019, WE Charity received $150k in endowment contributions, which Ci included in donations. Ci adjusted for covid-19 government assistance affecting revenue and expenses by $2.7m in F2021 and $4.9m in F2020. Ci included foreign exchange gains (losses) in other income and included interest income, realized and unrealized gains (losses) on marketable securities, and earnings from investments in We365 in investment income. This affected total revenues by ($355k) in F2021, ($156k) in F2020, and ($113k) in F2019. Ci included interest on long-term debts in other costs and excluded losses (gains) on the disposal of capital assets from expenses. This affected total expenses by $464k in F2021, $927k in F2020, and ($1.4m) in F2019.
Salary Information
| | |
| --- | --- |
| $350k + | 0 |
| $300k - $350k | 0 |
| $250k - $300k | 0 |
| $200k - $250k | 0 |
| $160k - $200k | 0 |
| $120k - $160k | 10 |
| $80k - $120k | 0 |
| $40k - $80k | 0 |
| < $40k | 0 |
Information from most recent CRA Charities Directorate filings for F2021