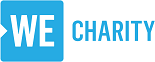 WE Charity
233 Carlton Street
Toronto, ON M5A 2L2
Executive Director: Scott Baker
Board Chair: Michelle Douglas

Website: www.wecharity.org
Charitable Reg. #: 88657 8095 RR0001
Sector: International Aid
Operating Charity
Charity Rating
Donor Accountability
Grade:
A
The grade is based on the charity's public reporting of the work it does and the results it achieves.
Financial Transparency
Audited financial statements for current and previous years available on the charity's website [
Audited financial statement for most recent year
]
Need for Funding
Funding Reserves
Program Costs
Spending Breakdown
Cents to The Cause
♦
♦
♦
95¢
75¢
avg
65¢
50¢

2014

2015

2016
For a dollar donated, cents funding the cause after fundraising and admin costs, excluding surplus.
Full-time staff #
297
Avg. Compensation
$27,873
Top 10 Staff Salary Range
| | |
| --- | --- |
| $350k + | 0 |
| $300k - $350k | 0 |
| $250k - $300k | 0 |
| $200k - $250k | 0 |
| $160k - $200k | 0 |
| $120k - $160k | 0 |
| $80k - $120k | 6 |
| $40k - $80k | 4 |
| < $40k | 0 |
Information from most recent CRA Charities Directorate filings for F2015
About WE Charity:
WE Charity, formerly known as Free the Children, was founded in 1995 by brothers Craig and Marc Kielburger. It aims to empower communities to lift themselves out of poverty by providing them with the skills and resources needed to change their lives. WE Charity also helps youth in Canada to become agents of change through WE Schools programs and WE Day events.
In 2015, WE Charity spent 56% of program costs on domestic projects to empower a generation of young people to become active global citizens. WE Charity's most prominent domestic initiative is WE Day, an event where celebrities and speakers are invited to join youth in learning about today's social issues. In 2016, 15 stadium-sized events were held, bringing together youth in 13 cities across North America and the UK. 95% of educators said WE Day allowed students to see themselves as part of their larger community.
Other domestic programs include WE Schools, which aims to help students understand social issues and provides them with the resources to take local and global action. In 2016, 3.4 million students at 12,300 schools and groups across North America and the UK were part of WE Schools. Together, 6,840 organizations were supported, 2.2 million pounds of food were collected, and $17.1m was raised for local and global causes. Based on the 2016 survey of WE Schools educators, 91% reported that their students felt a greater connection to their local community, while 83% report that WE Schools has helped to create a welcoming and respectful environment in their school or community.
International programming made up 44% of total program spending and was used to support the WE Villages program. This program uses an international development model to empower rural or marginalized villages in 8 countries: Haiti, Nicaragua, Ecuador, Sierra Leone, Kenya, Tanzania, India, and rural China. This development model depends on five pillars of impact: water, education, opportunity, food, and health. WE Charity's international programs build schools and water wells, and provide medical treatment and sources of income to its adopted villages. In Haiti, income opportunity programs have improved the standard of living of 1,000 people. Its projects are designed to address the root cause of poverty by removing barriers to youth success, educating and empowering youth, and transforming youth and communities.
In 2016, more than 2,600 people in Ecuador gained access to clean water. By the end of 2016, Baraka Maternity Ward and Kishon Health Centre in Kenya had served more than 75,000 patients combined. In 2015, Baraka Maternity Ward was named the best maternity wing in Narok Country by the Narok Country District Quality Assurance Team.
WE Charity is currently building a WE Learning Centre in Toronto, which is set to open in fall 2017. It will be an international hub for service-learning and youth engagement, and the site of WE Charity's new headquarters. Since F2015, the charity has invested $24.5m in its construction.
Financial Review:
WE Charity is a Major 100 charity, with donations of $54.3m in 2016. Its administrative costs were 7% of revenues and its fundraising costs were 2% of donations. For every $1 donated to the charity, 91 cents are put towards its programs, falling within Charity Intelligence's reasonable range for overhead spending. WE Charity's funding reserves are ($4.2m). This is due to $7.1m in outstanding bank loans and a mortgage payable of $2.5m associated with the construction of the new WE Learning Centre.
Updated on June 30, 2017 by Juliana Badovinac.
Financial Ratios

Fiscal year ending December

2016
2015
2014
Administrative costs as % of revenues
6.5%
6.7%
5.8%
Fundraising costs as % of donations
2.1%
2.0%
1.9%
Program cost coverage (%)
(9.4%)
(15.7%)
9.0%
Summary Financial Statements

All figures in $000s

2016
2015
2014
Donations
54,250
40,987
37,194
Goods in kind
1,645
2,465
3,794
Government funding
2,100
1,620
1,705
Investment income
97
300
38
Other income
145
385
233

Total revenues

58,237

45,758

42,964

Program costs - International
19,738
15,605
17,443
Program costs - Canada
25,106
21,291
20,125
Administrative costs
3,769
3,061
2,507
Fundraising costs
1,113
833
700
Other costs
320
86
21

Cash flow from operations

8,192

4,882

2,168

Funding reserves
(4,210)
(5,805)
3,367
Note: Ci did not include gain on disposal of capital assets, affecting revenues by ($1.1m) in F2016 and ($508k) in F2015.