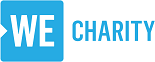 WE Charity
339 Queen Street East
Toronto, ON M5A 1S9
Executive Director: Scott Baker
Board Chair: Michelle Douglas

Website: www.we.org
Charitable Reg. #: 88657 8095 RR0001
Sector: International Aid
Operating Charity
Charity Rating
Results Reporting
Grade:
A-
The grade is based on the charity's public reporting of the work it does and the results it achieves.
Financial Transparency
Audited financial statements for current and previous years available on the charity's website [
Audited financial statement for most recent year
]
Need for Funding
Funding Reserves
Program Costs
Spending Breakdown
Cents to the Cause
♦
♦
♦
95¢
75¢
avg
65¢
50¢

2016

2017

2018
For a dollar donated, cents funding the cause after fundraising and admin costs, excluding surplus.
Full-time staff #
380
Avg. Compensation
$27,372
Top 10 Staff Salary Range
| | |
| --- | --- |
| $350k + | 0 |
| $300k - $350k | 0 |
| $250k - $300k | 0 |
| $200k - $250k | 0 |
| $160k - $200k | 0 |
| $120k - $160k | 4 |
| $80k - $120k | 6 |
| $40k - $80k | 0 |
| < $40k | 0 |
Information from most recent CRA Charities Directorate filings for F2018
About WE Charity:
Founded in 1995, WE Charity (formerly Free the Children) is an international aid charity working to help poor children in Africa, Asia, and Latin America. WE Charity runs domestic programs, which include WE Schools and WE Day, and an international WE Villages program. ME to WE is an affiliated social enterprise that has donated $20m to WE Charity since 2009.
WE Charity's international programs made up 51% of total program spending in F2018. WE Villages aim to create sustainable community development in areas with prevalent child labour, child exploitation, and gender inequality. WE Villages are based on a five-pillar model that focuses on improving education, water, health, food, and opportunity in each community. There are 86 WE Villages partner communities in nine countries worldwide: Nicaragua, Haiti, Ecuador, Sierra Leone, Ethiopia, Kenya, Tanzania, Rural China, and India.
In F2018, WE Charity used 49% of total program spending on domestic programs. WE Schools help students understand social issues and equips them with tools to give back to the community. The charity reports that 4.327 million youth and 37,359 educators around the world engaged with the WE Schools program in F2018. In F2018, WE Schools participants collected food that supported 15,163,433 meals. WE Day is an annual event featuring well-known speakers and celebrities who motivate students to take action.
Results and Impact:
WE Charity reports that $265,921,623 of social value was created globally in F2018 by youth involved in the WE Schools program. In surveys of U.S. and Canadian educators, WE Charity found that through its domestic programs, 90% of students demonstrated increased leadership amongst their peers and 83% of teachers feel better equipped to teach about social justice issues.
WE Charity reports that over 200 women were empowered in F2018 through a new Women's Empowerment Centre in Kenya. The centre has a computer lab, banking facility, artisan production space, and daycare.
While Ci highlights these key results, they may not be a complete representation of WE Charity's results and impact.
Financial Review:
WE Charity is a ­­­­large charity, with total donations of $33.2m in F2018. Administrative costs are 6% of revenues (excluding investment income) and fundraising costs are 4% of donations. For every dollar donated, 91 cents go to the cause. This is within Ci's reasonable range for overhead spending. Net funding reserves of $4.2m can cover just over one month of annual program costs.
­­This charity report is an update that has been sent to WE Charity for review. Changes and edits may be forthcoming.
Updated on July 11, 2019 by Lauren Chin.
Financial Ratios

Fiscal year ending August

2018
2017
2016
Administrative costs as % of revenues
6.0%
5.3%
7.4%
Fundraising costs as % of donations
3.5%
2.7%
2.5%
Program cost coverage (%)
11.1%
0.8%
(3.8%)
Summary Financial Statements

All figures in $000s

2018
2017
2016
Donations
33,215
56,605
47,420
Goods in kind
7,377
4,829
1,645
Government funding
1,594
2,988
2,100
Other income
167
158
145

Total revenues

42,352

64,579

51,310

Program costs - International
19,563
20,872
19,917
Program costs - Canada
18,512
34,880
25,222
Administrative costs
2,537
3,434
3,769
Fundraising costs
1,163
1,524
1,200
Other costs
399
1,033
320

Cash flow from operations

179

2,837

882

Funding reserves
4,239
467
(1,710)
Note: Ci included gain on foreign exchange in other revenue, affecting revenues by $155k in F2018 and $90k in F2016. Ci did not include gain on disposal of capital assets, affecting expenses by $572k in F2018, $1.3m in F2017, and $992k in F2016.