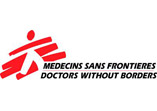 Doctors Without Borders
720 Spadina Avenue, Suite 402
Toronto, ON M5S 2T9
Executive Director: Stephen Cornish
Board President: Dr. Heather Culbert

Website: www.msf.ca
Charitable Reg. #: 13527 5857 RR0001
Sector: International Aid
Operating Charity
Charity Rating
Donor Accountability
Grade:
B+
The grade is based on the charity's public reporting of the work it does and the results it achieves.
Financial Transparency
Audited financial statements for current and previous years available on the charity's website [
Audited financial statement for most recent year
]
Need for Funding
Funding Reserves
Program Costs
Spending Breakdown
Full-time staff #
52
Avg. Compensation
$77,016
Top 10 Staff Salary Range
| | |
| --- | --- |
| $350k + | 0 |
| $300k - $350k | 0 |
| $250k - $300k | 0 |
| $200k - $250k | 0 |
| $160k - $200k | 0 |
| $120k - $160k | 1 |
| $80k - $120k | 6 |
| $40k - $80k | 3 |
| < $40k | 0 |
Information from most recent CRA Charities Directorate filings for F2014
About Doctors Without Borders:
Founded in 1991, Doctors Without Borders / Médecins Sans Frontières Canada (MSF) is an independent international charity that delivers medical relief in 70 countries. MSF provides medical aid to people following natural disasters, manmade disasters and violent armed conflicts. MSF's charter states that it helps people regardless of race, religion or political views.
Doctors Without Borders' emergency response program utilizes pre-packaged medical kits and an inflatable hospital to offer immediate medical aid to disaster victims. MSF's global warehouses stock equipment such as vehicles and water purification supplies, and stores thousands of tents, shelter kits and other non-perishable items. This allows MSF to deliver supplies to crisis areas within 24 hours. MSF also provides ongoing healthcare to people suffering from diseases such as HIV/AIDS, tuberculosis and tropical diseases. Finally, MSF's advocacy arm raises ongoing public awareness on instances of human abuse and populations in danger.
Doctors Without Borders' primary activities include vaccination campaigns, training and supervising medical personnel, improving water and sanitation infrastructure, distributing drugs and medical supplies, and direct patient care.
MSF Canada is one of 18 national MSF offices. Since 1991, Canadians have participated in over 2,000 field assignments in 80 countries. In F2015, MSF Canada sent 344 medical and logistical professionals on missions in 30 countries. In analyzing the leading reasons for MSF's intervention, 13 countries faced conflict and violence, 7 countries faced epidemics and diseases, 9 countries lacked access to healthcare, and 1 country suffered a natural disaster.
MSF Canada's largest projects focused on the ongoing conflict and disease outbreaks in the Democratic Republic of Congo ($4.5m in F2015), the humanitarian crisis arising from the civil conflict that began in late 2013 in South Sudan ($3.3m in F2015), and reconstructing the health system in Haiti five years after the earthquake ($3m F2015).
Financial Review:
Doctors Without Borders Canada is a Major 100 charity, with donations of $53.7m in F2015. It receives $13.8m in government funding, making up 19% of total revenues in F2015. Its administrative costs are 3% of revenues and its fundraising costs are 15% of donations. For every $1 donated to the charity, 82 cents is put towards its programs, falling within Ci's reasonable range. The charity has funding reserves of $17.9m, resulting in a program cost coverage ratio of 32%. This means that it can cover 4 months of its annual programs using its existing reserves.
This charity report is an update that is being reviewed by Doctors Without Borders. Changes and edits may be forthcoming.
Updated on June 20, 2016 by Lynn Tay.
Financial Ratios

Fiscal year ending December

2015
2014
2013
Administrative costs as % of revenues
2.7%
2.8%
3.3%
Fundraising costs as % of donations
15.1%
17.8%
20.5%
Program cost coverage (%)
31.9%
41.6%
28.4%
Summary Financial Statements

All figures in $000s

2015
2014
2013
Donations
53,658
49,333
36,827
Government funding
13,750
13,100
5,000
Investment income
214
131
102
Other income
6,446
6,020
4,983

Total revenues

74,068

68,584

46,913

Program costs - International
55,325
47,929
36,243
Program costs - Canada
929
906
782
Administrative costs
1,978
1,889
1,519
Fundraising costs
8,104
8,767
7,539

Cash flow from operations

7,731

9,093

829

Funding reserves
17,915
20,289
10,520
Note: Ci has adjusted amortization of capital assets affecting expenses by ($143k) in F2015, by ($123k) in F2014, and by ($93k) in F2013.