STAR RATING

Ci's Star Rating is calculated based on the following independent metrics:
RESULTS REPORTING
Grade based on the charity's public reporting of the work it does and the results it achieves.
DEMONSTRATED IMPACT
The demonstrated impact per dollar Ci calculates from available program information.
NEED FOR FUNDING
Charity's cash and investments (funding reserves) relative to how much it spends on programs in most recent year.
CENTS TO THE CAUSE
For a dollar donated, after overhead costs of fundraising and admin/management (excluding surplus) 74 cents are available for programs.
My anchor
About World Vision Canada:
Founded in 1957, World Vision Canada (WVC) is a Christian development, relief, and advocacy charity that helps communities overcome poverty and injustice.  
World Vision Canada works primarily through child/community sponsorship. When you sponsor a child through World Vision Canada, your money is pooled with that of other sponsors to improve the child's entire community. WVC's sponsorship projects last 10 to 15 years in each location.  
Through monthly donations of $49, Canadian donors sponsored children in 44 countries in F2020. These sponsorships provided food, water, healthcare, and education. The charity reports 377,888 sponsored children during the year, continuing the steady decline in child sponsorship from a peak of 514,060 children in F2011. Based on international program costs (omitting disaster response), WVC spent roughly $701 per child sponsored in F2020. 
Over the past five years, WVC's largest program costs include Food and Agriculture (31%), Emergency and Disaster Relief (18%), Health and Nutrition (17%), Community Empowerment and Child Rights Advocacy (9%), Development of Strategies to Help Children (8%), and Education (7%).  
World Vision Canada reports that 690 million people or 8.9% of the global population were undernourished at the end of 2019. In F2020, WVC, in partnership with the World Food Programme, gave food assistance to 3,104,113 people including 2,017,692 children. 
In addition to general food support, in F2020, WVC treated 96,250 children for acute malnutrition. About half had severe wasting. Of the 47,146 children treated for severe wasting, 89% were cured, which is well above the international standard of care for this type of treatment (75%). WVC also helps combat malnutrition with nutrition workshops and deworming medicine, since worms make it hard for children to get nutrients from their food. In F2020, WVC shipped 26,899,000 tablets of deworming medicine. 
World Vision Canada is also a disaster response charity. In F2020, WVC was part of a global covid-19 response that reached more than 50 million people. This response distributed masks, educated people on infection prevention, trained and delivered supplies to health workers, and enhanced child protection efforts. WVC responded to 29 other major emergencies including the Beirut explosion, following which it helped 20,901 people. It supports people affected by disasters with basic necessities, including food, water, shelter, and healthcare services. 
My anchor
Results and Impact
World Vision Canada is the largest non-government partner in the Nobel Prize-winning World Food Programme. Together they distributed 108,723 metric tons of food to 3,104,113 people in F2020.  
Thanks to WVC, 111,442 people now have clean water less than 30 minutes away from where they live. 
In F2020, 24 communities graduated World Vision's development program to become self-sufficient, an increase from 22 in F2019. Here are some results seen in graduating communities: 
In Hidhabu Abote, Ethiopia between 2004 and 2019, the proportion of households reporting year-round access to sufficient food went from 27% to 86%. The proportion of children under 5 who are underweight went from 25% to 5%. The percentage of grade 5 children who can read with comprehension went from 15% to 83%. 
In Konkossa, Mauritania between 2004 and 2018, the severe malnutrition rate went from 14% to 2%. The proportion of students who can read in Arabic with comprehension went from 8% to 84%. 
In Misamis Oriental, Philippines between 2016 and 2020, the prevalence of stunting in children under 5 went from 40% to 5%. The proportion of households that can provide basic needs to their children went from 68% to 82%. The proportion of households with income above the poverty threshold went from 14% to 35%, missing WVC's target of 75%. 
While Ci highlights these key results, they may not be a complete representation of World Vision Canada's results and impact.   
Charity Intelligence has given World Vision a High impact rating based on demonstrated impact per dollar spent.
Impact Rating: High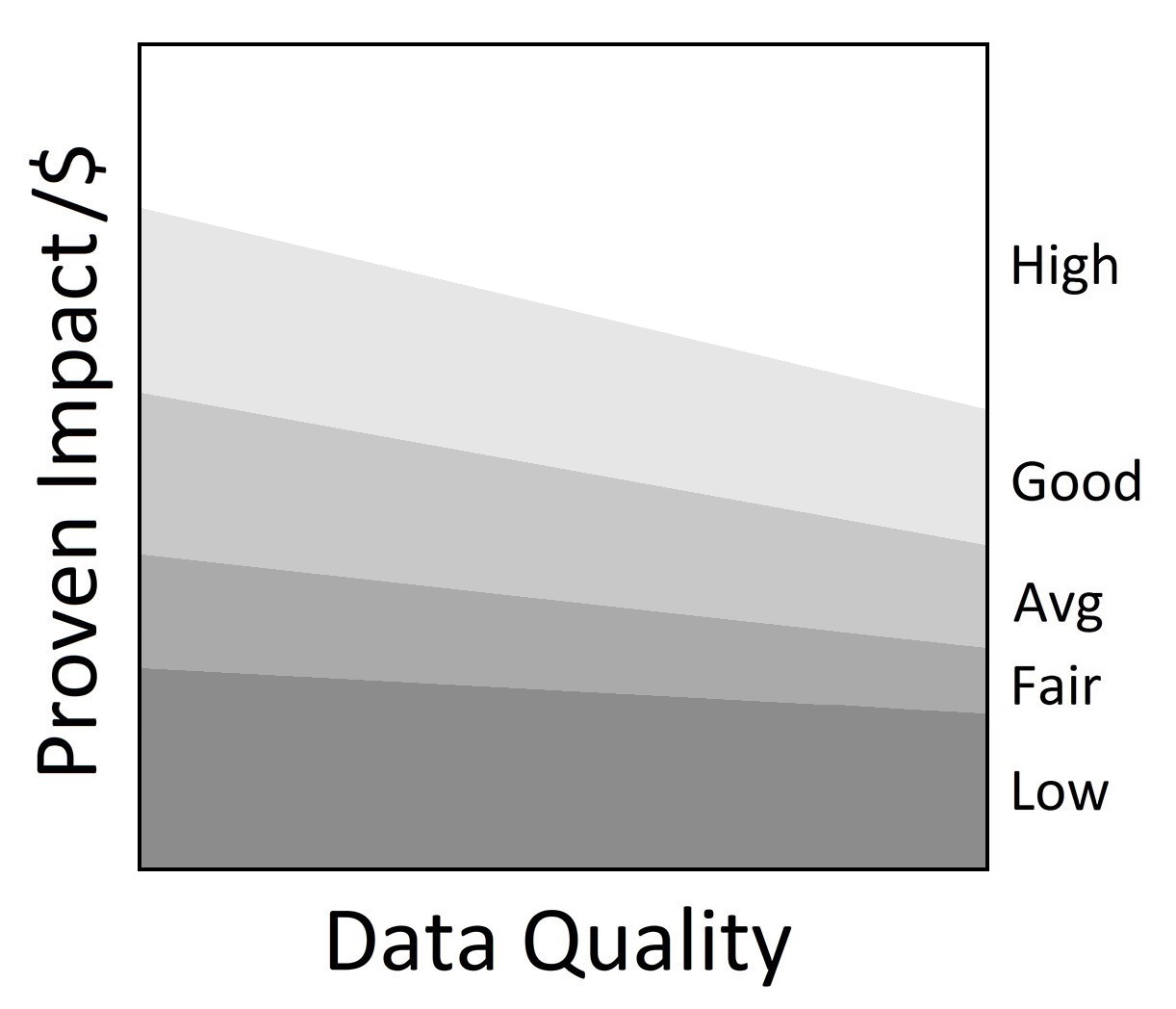 •
My anchor
World Vision Canada is Canada's largest donor-funded charity and tops the list of Canada's Major 100 charities receiving cash donations of $217.5m along with donated goods-in-kind of $116.2m in F2020. WVC received government funding of $21.8m in F2020.  
WVC's administrative costs are 6% of total revenues (excluding investment income) and fundraising costs are 20% of total donations. This means overhead costs are 26%. For every dollar donated, 74 cents go to the cause. This is within Ci's reasonable range for overhead spending. 
WVC has total funding reserves of $54.1m which could cover its annual program costs for just over three months. 
Like most large Canadian charities partnered with international organizations, most Canadian donations are pooled with its international partner. World Vision Canada transferred $287.5m in F2020, $278.3m in F2019, and $314.7m in F2018 to World Vision International in donations and donated goods.  
International grants of $35.6m in F2019 include funding from a number of international organizations, including the UN's World Food Programme.  
World Vision Canada reports using external fundraisers in its annual filing with the Charities Directorate. In F2020, it paid $4.5m to external fundraisers who brought in $68.8m in donations (7% fundraising cost).  
­This charity report is an update that has been sent to World Vision Canada for review. Changes and edits may be forthcoming.  
Updated on July 29, 2021 by Asha McMullin.
Financial Review

Financial Ratios

Fiscal year ending September

2020
2019
2018
Administrative costs as % of revenues
6.0%
6.0%
5.8%
Fundraising costs as % of donations
19.7%
26.6%
24.8%
Total overhead spending
25.7%
32.7%
30.5%
Program cost coverage (%)
25.7%
20.3%
16.8%
Summary Financial Statements

All figures in $000s

2020
2019
2018
Donations
217,486
231,882
240,023
International donations
37,917
35,603
47,787
Goods in kind
116,222
116,393
127,116
Government funding
21,849
29,903
45,802
Investment income
645
719
981

Other income

135

231

3,711

Total revenues

394,255

414,731

465,420

Program costs - International
35,962
33,669
47,350
Program costs - Canada
2,755
3,948
3,373
Grants
171,484
170,158
199,597
Donated goods exp
116,024
116,393
127,116
Administrative costs
23,726
25,018
26,723

Fundraising costs

42,824

61,748

59,500

Total spending

392,774

410,935

463,660

Cash flow from operations
1,480
3,797
1,760
Capital spending
4,541
2,151
2,447
Funding reserves
54,060
42,121
42,134
Note: Ci backed out World Vision Canada's amortization costs from Canadian program costs, international program costs, administrative costs, and fundraising costs on a pro-rata basis. World Vision Canada provided funding to World Vision International of $171.5m in F2020, $161.9m in F2019, and $187.8m in F2018. Ci categorizes these payments as grants, but World Vision Canada comments that this money should be categorized as "cash funding - international".
Salary Information
| | |
| --- | --- |
| $350k + | 0 |
| $300k - $350k | 0 |
| $250k - $300k | 0 |
| $200k - $250k | 6 |
| $160k - $200k | 3 |
| $120k - $160k | 1 |
| $80k - $120k | 0 |
| $40k - $80k | 0 |
| < $40k | 0 |
Information from most recent CRA Charities Directorate filings for F2020