STAR RATING

Ci's Star Rating is calculated based on the following independent metrics:
RESULTS REPORTING
Grade based on the charity's public reporting of the work it does and the results it achieves.
DEMONSTRATED IMPACT
The demonstrated impact per dollar Ci calculates from available program information.
NEED FOR FUNDING
Charity's cash and investments (funding reserves) relative to how much it spends on programs in most recent year.
CENTS TO THE CAUSE
For a dollar donated, after overhead costs of fundraising and admin/management (excluding surplus) 78 cents are available for programs.
My anchor
About World Vision Canada:
World Vision Canada is a 5-star rated charity with High impact on its international development programs. It is Canada's largest international food charity helping those at risk of starvation and malnutrition, especially in fragile communities.
Founded in 1957, World Vision Canada (WVC) is a Christian international development and disaster relief charity. It aims to help communities overcome poverty. World Vision Canada is the Canadian chapter of World Vision International. WVC's work focuses on hunger and malnutrition, especially among children. WVC reports that in F2022, 45 million people in 37 countries were severely malnourished.
A Charity Intelligence 2022 Top 10 International Aid Impact Charity.
WVC is shifting its work to focus away from medium-developed countries to highly vulnerable communities where the need is greatest. Specifically, it works in communities with unstable governments and high rates of poverty. Children who live in fragile communities are more likely to face hunger, violence, and exploitation. In F2021, 45% of WVC's program spending was in the most fragile communities (43% in F2021 and 34% in F2020).
World Vision Canada breaks its program spending down into five main programs:
Livelihoods – 54% of program spending. World Vision is the largest partner to distribute UN's World Food Program aid. Through this WFP partnership, World Vision Canada WVC distributed 67,690 metric tons of food that reached 1,950,835 people in fiscal 2022. It also gave $68m in cash transfers and vouchers to 1,454,557 people. The value of cash and vouchers alone is 18% of total program spending. On average, each person received $47 in cash and vouchers.
Health – 18% of program spending. WVC's health programs focus is treating malnutrition and other programs prevent or cure diseases. In fiscal 2022, WVC treated 22,735 children for malnutrition. Its health work also focuses on family planning, maternal and newborn health. In F2022, WVC distributed 4.7 million full doses of deworming medication. 
Education – 13% of program spending. During F2022, 45,245 children attended WVC's early childhood development centres. This includes 136 centres that it established in F2022. It also provided vocational training to 10,641 students. Its focus going forward is to improve literacy and education quality in its sponsored communities.
Child Protection and Participation – 9% of program spending. WVC aims to protect children from abuse, neglect, exploitation, and violence. In F2022, WVC helped 6,182 children get birth certificates. It also identified and followed up on 3,426 child protection cases.
Water, Sanitation and Hygiene – 6% of program spending. WVC helps communities get access to safe drinking water and clean sanitation facilities. In F2022, 664,859 people got access to safe drinking water. It constructed, fixed, or improved 6,765 water sources.
Many Canadian donors support WVC by sponsoring a child. When you sponsor a child, WVC pools your money with that of other sponsors. It uses this funding to improve the child's whole community. This is an indirect sponsorship model. Through monthly donations of $49, Canadian donors sponsored 317,942 children in F2022. These sponsorships provide livestock and agricultural tools as well as food, medical interventions, and improved education. WVC sponsors a community for between 10 to 15 years. In F2022, 13 sponsorship communities graduated (17 in F2021.)
To learn more about Child Sponsorship, Charity Intelligence's July 2022 "What you need to know" article. 
My anchor
Results and Impact
WVC's livelihood program includes giving food and cash to those in need. WVC distributed 67,690 metric tons of food to 2.0 million people. On average, each person received 37kg of food. It also distributed $68m in cash transfers or vouchers to 1,454,557 people. WVC reports that from F2019 to F2021, its food distribution program helped save the lives of 10,841 children under five. 
WVC saves children from dying of severe malnutrition. It worked with national ministries of health to treat 225,866 children under five for wasting malnutrition in F2022. This includes 85,101 children with severe wasting malnutrition. It cured 81.3% (69,187 children) of those with severe wasting malnutrition.
In Tanzania, WVC's maternal and newborn health program helped prevent 155 deaths. The charity's impact assessment finds that for every $1 spent on health programs, it generated $4 in health benefits. 
WVC reports that in its school programs, 221,000 children gained the equivalent of two more years of school. Its impact assessment finds for every dollar spent, $20 is created in economic benefit. 
Through WVC's Water, Sanitation, & Hygiene efforts, 442 communities were certified as open defecation free. This is an increase from 202 in F2021.
World Vision Canada's 2022 annual report is world-class in its results reporting. It is well worth the read to fully appreciate the tremendous scale of WVC's work around the world.
While Ci highlights these key results, they may not be a complete representation of World Vision Canada's results and impact.
Charity Intelligence has given World Vision a High impact rating based on demonstrated impact per dollar spent.
Impact Rating: High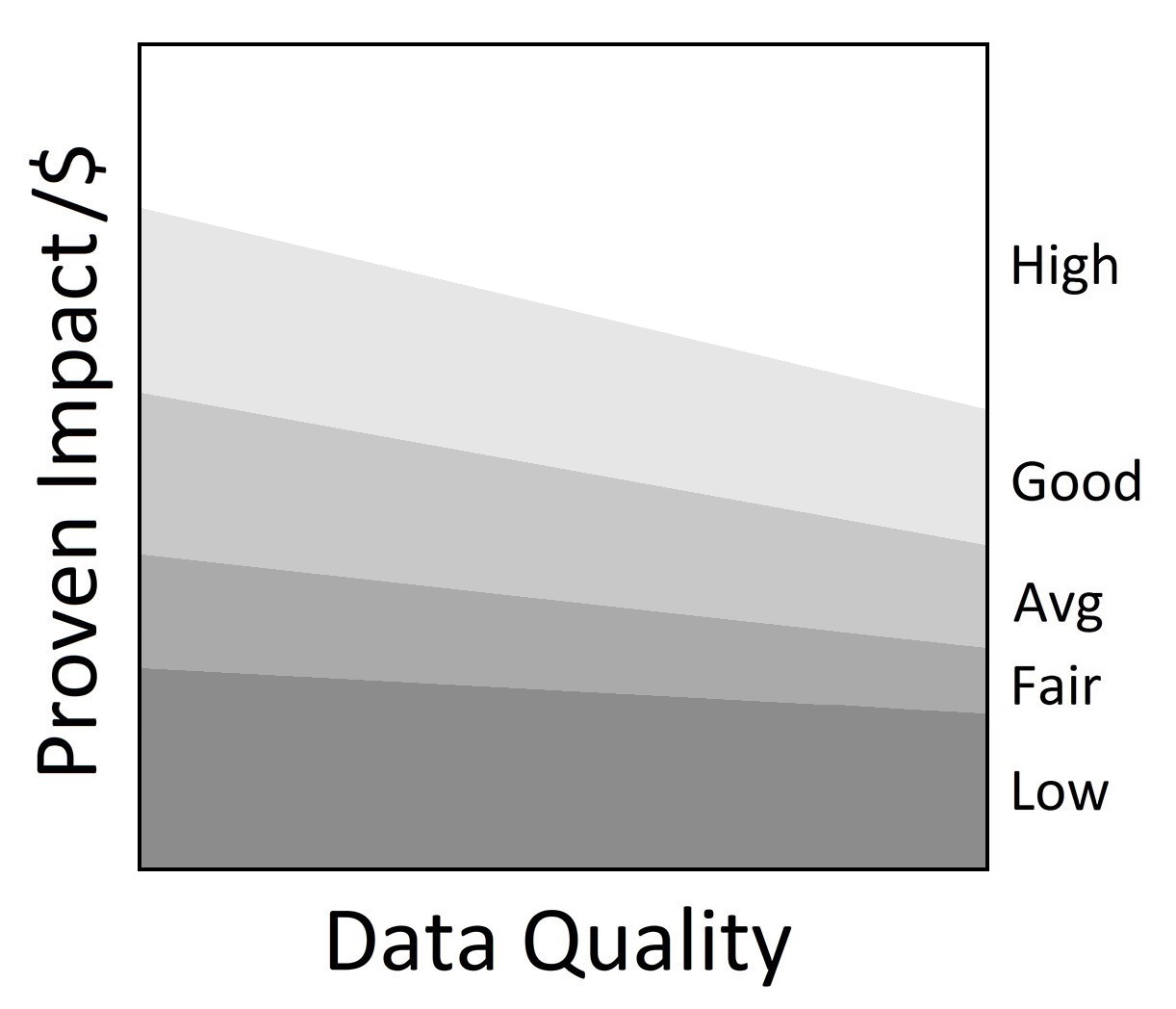 •
My anchor
World Vision Canada received $237.3m in Canadian donations and $144.9m of donated gifts-in-kind in F2022. In F2022, WVC received $37.6m in government funding. It also received $20.6m in international grants, including funding from the UN World Food program. This amount decreased 47% from $38.7m in F2021. World Vision Canada is one of Canada's largest charities by donor support. It is a Major 100 charity.
WVC's fundraising costs are 18% of donations and its administrative costs are 4% of total donations. This means World Vision Canada's overhead costs are 22%. For every dollar donated 78 cents go to the cause. This is within Ci's reasonable range for overhead spending. 
In F2021, WVC dramatically reduced its fundraising costs by $8m, a 19% decrease, compared to F2020. It accomplished this by making internal staff cuts. In F2022, fundraising costs rebounded back to pre-covid levels of $42m. 
WVC has total reserve funds of $48.0m which could cover its annual program costs for approximately two and a half months. WVC has a need for funding.
Like most large Canadian charities partnered with international organizations, most Canadian donations are pooled with its international partner. World Vision Canada transferred to World Vision International $342m in F2022, $341m in F2021, and $288m in F2020 in donations and donated goods. 
World Vision Canada reports using external fundraisers in its T3010 filing with the CRA. In F2022 it paid external fundraisers $337k to raise $67.8m for a fundraising cost of less than 1 cent per dollar raised.  
­This charity report is an update that has been sent to World Vision Canada for review. Changes and edits may be forthcoming. 
Updated on May 19, 2023 by Emily Downing.
Financial Review

Financial Ratios

Fiscal year ending September

2022
2021
2020
Administrative costs as % of revenues
4.5%
4.4%
6.0%
Fundraising costs as % of donations
17.9%
14.7%
18.9%
Total overhead spending
22.4%
19.0%
24.8%
Program cost coverage (%)
21.1%
20.6%
25.7%
Summary Financial Statements

All figures in $000s

2022
2021
2020
Donations
237,252
236,126
226,865
International donations
20,583
38,677
33,941
Goods in kind
144,857
140,951
116,222
Government funding
37,613
26,706
21,849
Investment income
818
1,095
645

Other income

216

634

135

Total revenues

441,340

444,189

399,657

Program costs - International
23,427
37,068
30,682
Program costs - Canada
1,901
1,986
2,755
Grants
202,088
203,623
176,765
Donated goods exp
144,398
140,951
116,024
Administrative costs
19,881
19,342
23,726

Fundraising costs

42,347

34,650

42,824

Total spending

434,041

437,621

392,774

Cash flow from operations
7,299
6,567
6,882
Capital spending
5,366
2,417
4,541
Funding reserves
47,986
50,085
54,060
Note: World Vision Canada's income statement does not present a separate line item for amortization costs. Ci backed out World Vision Canada's amortization costs from Canadian program costs, international program costs, administrative costs, and fundraising costs on a pro-rata basis. World Vision Canada provided funding to World Vision International of $197.8m in F2022, $200.0m in F2021, and $171.5m in F2020. Ci shows these transfers as grants. WVC also provided gifts-in-kind to World Vision International of $144.4m in F2022, $141.0 in F2021, and $116.0m in F2020. Ci has categorized these as donated goods used in programs. Ci backed out grants reported on the charity's T1236 filing with the CRA and reported these amounts as grants, affecting international program costs by $4.3m in F2022, $3.5m in F2021, and $5.3m in F2020. WVC did not break apart deferred government revenues and deferred international grants. As such, Ci was not able to adjust for these changes in deferred revenues.
Salary Information
| | |
| --- | --- |
| $350k + | 0 |
| $300k - $350k | 0 |
| $250k - $300k | 0 |
| $200k - $250k | 1 |
| $160k - $200k | 5 |
| $120k - $160k | 2 |
| $80k - $120k | 2 |
| $40k - $80k | 0 |
| < $40k | 0 |
Information from most recent CRA Charities Directorate filings for F2022