STAR RATING

Ci's Star Rating is calculated based on the following independent metrics:
RESULTS REPORTING
Grade based on the charity's public reporting of the work it does and the results it achieves.
DEMONSTRATED IMPACT
The demonstrated impact per dollar Ci calculates from available program information.
NEED FOR FUNDING
Charity's cash and investments (funding reserves) relative to how much it spends on programs in most recent year.
CENTS TO THE CAUSE
For a dollar donated, after overhead costs of fundraising and admin/management (excluding surplus) 80 cents are available for programs.
My anchor
About World Vision Canada:
World Vision Canada is a 5-star rated charity with high impact on its international development programs. It is Canada's largest international food charity helping those at risk of starvation and malnutrition, especially in fragile communities.
Founded in 1957, World Vision Canada (WVC) is a Christian international development and disaster relief charity that helps communities overcome poverty. WVC is a national office of World Vision International. WVC's work focuses on hunger and malnutrition, especially among children. WVC reports that in F2021, 41 million people were at risk of starvation in 43 countries.
A Charity Intelligence 2022 Top 10 International Aid Impact Charity
WVC is shifting to work more in vulnerable communities, specifically those with unstable governments and high rates of poverty. Children who live in fragile communities are more likely to face hunger, violence, and exploitation. In F2021, 43% of WVC's program spending was in the most fragile communities compared to 34% in F2020 and 31% in F2019.
World Vision Canada breaks its program spending down into five main programs: livelihoods, health, education, child protection, and water, sanitation and hygiene.
Food and cash transfers (Livelihood) – 59% of program spending. In F2021, WVC reached 2.1 million people with 191 million pounds of food. WVC distributed 48% of this food in Tanzania, Uganda, and Sudan in F2021. WVC is also using more cash transfers in its aid and development. WVC gave out $67 million in cash and cash-for-work in F2021. On average, each person received $56 in cash assistance.
Health – 19% of program spending. WVC's global health programs focus on food and malnutrition. WVC estimates 139 million young children in lower- and middle-income countries are chronically malnourished. 45 million children under five suffer from wasting malnutrition. WVC distributed 1.9 million ready-to-use therapeutic food packets, 10.6 million deworming pills, and 3,997 birth kits.
Education – 11% of program spending. In its development projects in sponsored communities, World Vision is focused on improving the quality of education students receive. 22,898 children attended early childhood development centres and 110,288 children attended in-school or after-school literacy activities in F2021. 20,967 youth completed life skills training through World Vision programs in F2021. 
Child Protection – 9% of program spending. In F2021, WVC worked on 9,109 child protection cases. WVC also helped 3,113 children under 5 receive birth certificates in F2021.
Water, Sanitation and Hygiene – 2% of program spending. WVC projects got 307,000 people access to safe water. WVC also constructed, rehabilitated, or improved 2,945 water sources.
Many Canadian donors support WVC by sponsoring a child. When you sponsor a child, WVC pools your money with that of other sponsors to improve the child's whole community. This is called an indirect sponsorship model. Through monthly donations of $49, Canadian donors sponsored 344,800 children in F2021. These sponsorships provide livestock and agricultural tools as well as food, medical interventions, and improved education. WVC sponsors a community for between 10 to 15 years. In F2021, 17 sponsorship communities graduated (24 in F2020.)
Ci's Special Report on Ukraine: How to help
My anchor
Results and Impact
WVC's livelihood program includes giving food and cash assistance. In partnership with World Food Programme, WVC distributed 191.8 million pounds of food to 2.1 million people. This is an average of 91 pounds per person. WVC also provided $67m in cash-based programming to 1.2 million people.
WVC saves children from dying of severe malnutrition. Working with national ministries of health, World Vision treated 111.4k children under five for wasting malnutrition in F2021. This includes 37,757 children with severe wasting malnutrition. Of those treated for severe wasting malnutrition, 34,963 recovered. WVC's cure rate was 93% in F2021, above the global humanitarian Sphere standard of 75%. WVC's cure rate improved from 89% in F2020. This improvement alone saved 1,190 children in F2021.
WVC's programs improve the quality of education students receive. In Chingeltei, Mongolia, the number of children who can read with comprehension increased from 74% in 2013 to 84% in 2021. In Toroly, Mali, the primary school completion rate increased from 20% in 2013 to 60% in 2020.
Through WVC's Water, Sanitation, & Hygiene efforts, 202 communities were declared open defecation free in F2021.
World Vision Canada's 2021 annual report is world class in its results reporting. It is well worth the read to fully appreciate the tremendous scale of WVC's work around the world.
While Ci highlights these key results, they may not be a complete representation of World Vision Canada's results and impact.
Charity Intelligence has given World Vision a High impact rating based on demonstrated impact per dollar spent.
A Charity Intelligence 2022 Top 10 International Aid Impact Charity
Impact Rating: High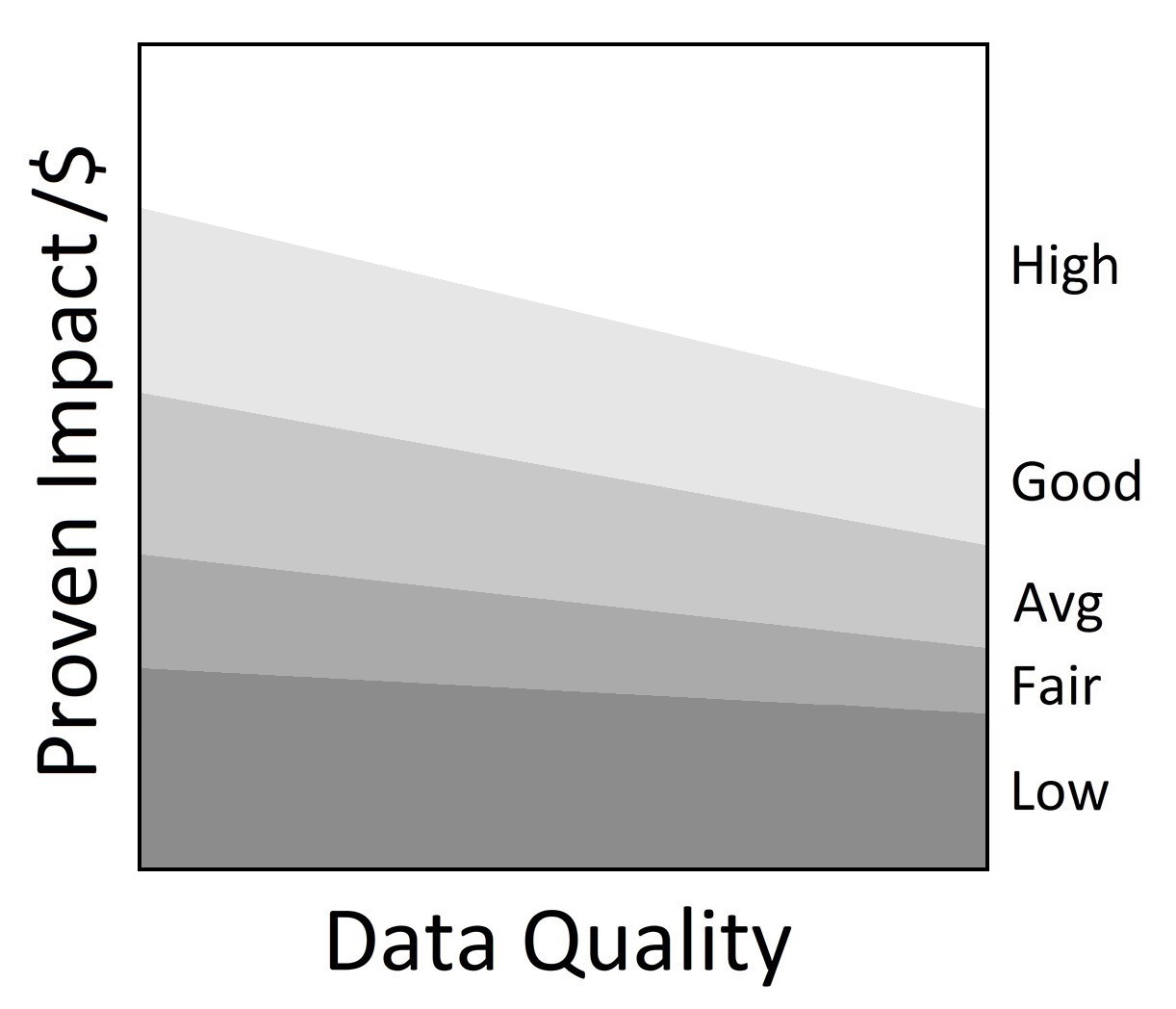 •
My anchor
World Vision Canada received $226m in Canadian donations and $141m of donated gifts-in-kind in F2021. In F2021, WVC received $27m in government funding. World Vision Canada is one of Canada's largest charities by donor support. It is a Major 100 charity.
WVC's fundraising costs are 15% of donations and its administrative costs are 4% of total donations. This means overhead costs are 20%. For every dollar donated 80 cents go to the cause. This is within Ci's reasonable range for overhead spending. In F2021, WVC dramatically reduced its fundraising costs. Its fundraising costs were $8.2m lower than in F2021, a 19% decrease. This was accomplished through not using external fundraisers and also internal staff cuts.
WVC has total funding reserves of $50.1m which could cover its annual program costs for approximately two and a half months. Like most large Canadian charities partnered with international organizations, most Canadian donations are pooled with its international partner. World Vision Canada transferred to World Vision International $341.0m in F2021, $287.5m in F2020, and $278.3m in F2019 in donations and donated goods. International grants of $45.2m in F2021 include funding from several international organizations, including the UN's World Food Programme.  
World Vision Canada reports using external fundraisers in its annual filing with the Charities Directorate. In F2021, it paid $604k to external fundraisers who brought in $66.3m in donations (1% fundraising cost).  
­This charity report is an update that has been sent to World Vision Canada for review. Changes and edits may be forthcoming.  
Updated on May 25, 2022 by Emily Downing.
Financial Review

Financial Ratios

Fiscal year ending September

2021
2020
2019
Administrative costs as % of revenues
4.4%
6.0%
6.0%
Fundraising costs as % of donations
15.3%
19.7%
26.6%
Total overhead spending
19.7%
25.7%
32.7%
Program cost coverage (%)
20.6%
25.7%
20.3%
Summary Financial Statements

All figures in $000s

2021
2020
2019
Donations
226,150
217,486
231,882
International donations
45,179
37,917
35,603
Goods in kind
140,951
116,222
116,393
Government funding
26,706
21,849
29,903
Investment income
1,095
645
719

Other income

634

135

231

Total revenues

440,715

394,255

414,731

Program costs - International
37,068
35,962
33,669
Program costs - Canada
1,986
2,755
3,948
Grants
203,623
171,484
170,158
Donated goods exp
140,951
116,024
116,393
Administrative costs
19,342
23,726
25,018

Fundraising costs

34,650

42,824

61,748

Total spending

437,621

392,774

410,935

Cash flow from operations
3,094
1,480
3,797
Capital spending
2,417
4,541
2,151
Funding reserves
50,085
54,060
42,121
Note: World Vision Canada's income statement does not present a separate line item for amortization costs. Ci backed out World Vision Canada's amortization costs from Canadian program costs, international program costs, administrative costs, and fundraising costs on a pro-rata basis. World Vision Canada provided funding to World Vision International of $200.0m in F2021, $171.5m in F2020, and $161.9m in F2019. Ci shows these transfers as grants. WVC also provided gifts-in-kind to World Vision International of $141.0 in F2021, $116.0m in F2020, and $116.4m in F2019. Ci has categorized these as donated goods used in programs. 
Salary Information
| | |
| --- | --- |
| $350k + | 0 |
| $300k - $350k | 0 |
| $250k - $300k | 0 |
| $200k - $250k | 1 |
| $160k - $200k | 4 |
| $120k - $160k | 3 |
| $80k - $120k | 2 |
| $40k - $80k | 0 |
| < $40k | 0 |
Information from most recent CRA Charities Directorate filings for F2021