STAR RATING

Ci's Star Rating is calculated based on the following independent metrics:
RESULTS REPORTING
Grade based on the charity's public reporting of the work it does and the results it achieves.
DEMONSTRATED IMPACT
The demonstrated impact per dollar Ci calculates from available program information.
NEED FOR FUNDING
Charity's cash and investments (funding reserves) relative to how much it spends on programs in most recent year.
CENTS TO THE CAUSE
For a dollar donated, after overhead costs of fundraising and admin/management (excluding surplus) 81 cents are available for programs.
My anchor
About Effect Hope:
Effect Hope is a 3-star charity with an average grade in results reporting. The charity's programs have demonstrated high impact; however, the charity is not financially transparent.
The Leprosy Mission was founded in India in 1869, with the Canadian affiliate formed in Guelph, Ontario, in 1892. In 1982, the development of multi-drug therapy allowed the Leprosy Mission to expand its work from the alleviation of suffering towards a cure. In 2014, the Leprosy Mission rebranded to Effect Hope. Effect Hope is a Christian development charity with a mission to end suffering due to neglected tropical diseases (NTDs), including leprosy, buruli ulcers, lymphatic filariasis, hookworm, roundworm, and river blindness.   
A Charity Intelligence 2022 Top 10 Impact Charity
Effect Hope reports that NTDs affect 1 to 1.5 billion people every year. In F2021, the charity screened 633,611 people for leprosy. It also provided 619,227 children under the age of five with Vitamin A and deworming treatment. 
16% of Effect Hope's program spending is used in Canada to raise awareness about NTDs. 8% is used to manage its international programs. The remaining 76% of program spending is used in its overseas programs.   
The charity carries out programs in four domains: strengthening health systems, research, activating and equipping communities, and advocacy. In collaboration with international partners, Effect Hope works in seven countries: Bangladesh, India, Liberia, Kenya, DR Congo, Côte D'Ivoire, and Nigeria. The charity works towards its mission by helping its partners set up hospitals, rural health centres, rehabilitation and vocational training centres, and community services.  
In F2021, the charity trained 19,591 healthcare workers. Effect Hope reported that it provided medical treatment for 105,026 people in F2021. Effect Hope also gave financial and social support to 6,916 people and educated 42,333 people about NTDs within their communities.  
Effect Hope has responded to the covid-19 pandemic by advocating for its vulnerable patients, supporting the poor with food, and now that vaccines are available, delivering vaccines. It distributed 49,470 pieces of personal protective equipment and provided covid-19 education to 30,262 people. Effect Hope also vaccinated 15,487 people against covid-19 in F2021.  
My anchor
Results and Impact
Effect Hope recognized that NTDs result from and contribute to extreme poverty. Therefore, the charity follows up with the people it treats, helping them to access education, training, and support in economic activities in addition to medical support.  
The charity's project in northwestern Bangladesh has impacted 1,500 people since 2016 and led to 54% of families no longer in ultra-poverty, 92% of families increased household income, and 92% increased community acceptance.  
Through the charity's Every Child Thrives program, Effect Hope reduced child mortality in Côte d'Ivoire and Kenya by addressing Vitamin A deficiency and soil-transmitted helminths (intestinal worms) infection - the two major causes of disease and death for children under five. 
While Ci highlights these key results, they may not be a complete representation of Effect Hope's results and impact.  
Charity Intelligence gave Effect Hope an impact rating of High for demonstrated social impact per dollar spent.  
Impact Rating: High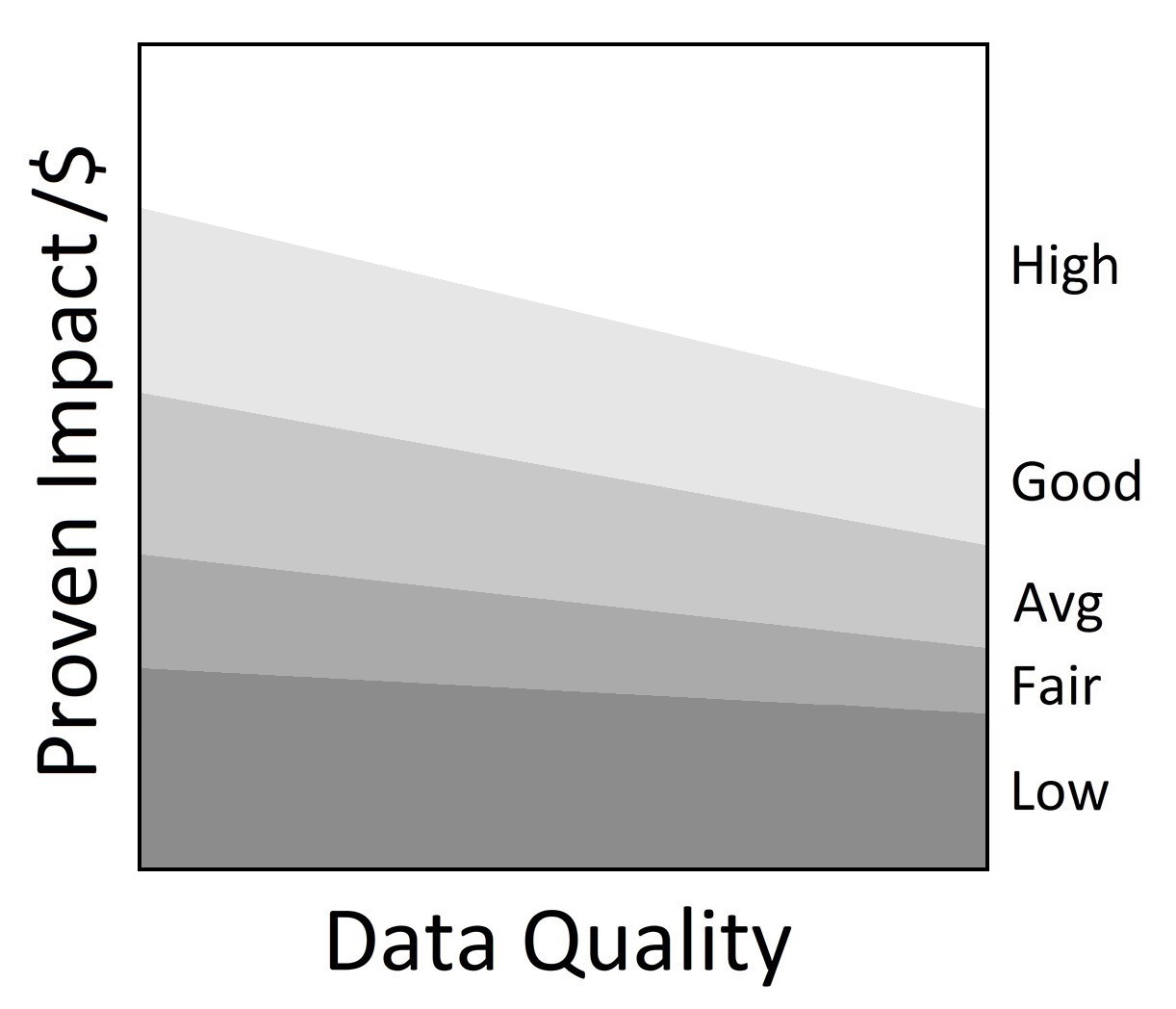 •
My anchor
Effect Hope received $5.6m in donations in F2021. The charity also received $1.4m in government funding. Administrative costs were 7% of revenues (excluding investment income), and fundraising costs were 11% of donations. Effect Hope spends 19% on overhead. This means for every dollar donated, 81 cents go towards the charity's programs. This is within Ci's reasonable range for overhead spending.  
Effect Hope has $6.5m in funding reserves, which can cover 1.1 years of annual program costs.  
Charity Intelligence has sent this update to Effect Hope for review. Changes and edits may be forthcoming.  
Updated on June 15, 2022 by Emma Saganowich.  
Financial Review

Financial Ratios

Fiscal year ending December

2021
2020
2019
Administrative costs as % of revenues
7.4%
10.6%
10.0%
Fundraising costs as % of donations
11.3%
8.2%
15.8%
Total overhead spending
18.7%
18.9%
25.8%
Program cost coverage (%)
112.4%
94.6%
54.1%
Summary Financial Statements

All figures in $000s

2021
2020
2019
Donations
5,606
5,930
6,025
Government funding
1,408
455
896
Business activities (net)
1
11
8

Investment income

315

8

165

Total revenues

7,330

6,404

7,094

Program costs
5,761
4,919
5,258
Administrative costs
520
681
694

Fundraising costs

635

488

950

Total spending

6,916

6,088

6,902

Cash flow from operations
414
316
192
Capital spending
15
6
26
Funding reserves
6,478
4,654
2,846
Note: Business activities are presented gross as no related expenses were reported in the audited financials. Ci reported amortization as a non-cash expense and removed the expense from program, administrative, and fundraising costs on a pro-rata basis. Total amortization was $21k in F2021, $17k in F2020, and $42k in F2019. Ci reported changes in amounts owed to field programs as a program expense. This affected program expenses by $1.5m in F2021, $1.8m in F2020, and $22k in F2019.  
Salary Information
| | |
| --- | --- |
| $350k + | 0 |
| $300k - $350k | 0 |
| $250k - $300k | 0 |
| $200k - $250k | 0 |
| $160k - $200k | 0 |
| $120k - $160k | 1 |
| $80k - $120k | 8 |
| $40k - $80k | 1 |
| < $40k | 0 |
Information from most recent CRA Charities Directorate filings for F2020