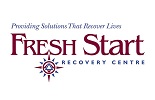 Fresh Start Recovery Centre
411 41 Ave. NE
Calgary, AB T2E 2N4
Executive Director: Stacey Petersen
Board Chair: Craig H. Borgland

Website: www.freshstartrecovery.ca
Charitable Reg. #: 13672 0737 RR0001
Sector: Social Services - Homeless (Addiction Recovery)
Operating Charity
Charity Rating
Results Reporting
Grade:
A-
The grade is based on the charity's public reporting of the work it does and the results it achieves.
Financial Transparency
Audited financial statements for current and previous years available on the charity's website [
Audited financial statement for most recent year
]
Need for Funding
Funding Reserves
Program Costs
Spending Breakdown
Cents to the Cause
♦
♦
♦
95¢
75¢
avg
65¢
50¢

2015

2016

2017
For a dollar donated, cents funding the cause after fundraising and admin costs, excluding surplus.
Impact Rating: High
•
Full-time staff #
28
Avg. Compensation
$60,065
Top 10 Staff Salary Range
| | |
| --- | --- |
| $350k + | 0 |
| $300k - $350k | 0 |
| $250k - $300k | 0 |
| $200k - $250k | 0 |
| $160k - $200k | 0 |
| $120k - $160k | 1 |
| $80k - $120k | 2 |
| $40k - $80k | 7 |
| < $40k | 0 |
Information from most recent CRA Charities Directorate filings for F2016
About Fresh Start Recovery Centre:
Founded in 1992, Fresh Start Recovery Centre (Fresh Start) works with men who are alcoholics or addicted to drugs, helping them live healthy, happy, and productive lives. The charity reports that 90% of Canadians do not receive the treatment for addiction that they need. Up to 8% of hospitalizations and 10% of days spent in hospital are related to substance abuse.
A Charity Intelligence 2018 Top 10 Impact Charity
Fresh Start offers 50 primary-treatment beds where clients stay for 14-16 weeks while participating in a 12-step abstinence program. Men are supported physically, mentally, emotionally, and spiritually while they develop the skills necessary for sober living. In F2017, 135 men enrolled in Fresh Start's live-in program. The charity reports that one participant died and 72% (97) completed the program. Fresh Start's F2017 graduation rate is its lowest since F2012, declining from 80% in F2016.
After graduating the program, clients can remain in treatment or access post-treatment beds for extended support.  With a $7.2 million contribution from Alberta Social Housing, Fresh Start is in the process of increasing the number of post-treatment beds offered. In F2017, the charity added 18 new beds to its existing 10. When the two new residential buildings are complete, Fresh start will have 56 post-treatment beds. The new beds will increase the efficiency of clients moving through the 50 designated treatment beds, making Fresh Start's services available for an additional 125 men each year.
In August 2018, Fresh Start Recovery Centre is set to open Eleven-Eleven food truck and café. The businesses will provide recovering addicts with employment. Fresh Start also hopes to raise community awareness for the disease of addiction.
Results and Impact: Charity Intelligence has reviewed Fresh Start since 2007 and it is consistently a highly-rated charity with high impact per dollar (see image in lower right).
In F2017, Fresh start reports that 82 clients celebrated one year of sobriety. Based on F2016 operating costs, Fresh Start paid $31,268 per client who reached this milestone.
Financial Review:
Fresh Start Recovery Centre is a medium-sized charity with donations of $2.2m in F2017. The charity received $5.6m in government funding, of which $5.4m came from Alberta Social Housing to fund the new buildings. Between the new buildings and renovation for Eleven-Eleven, Fresh Start had $6.1m in capital expenditures in F2017.
Administrative costs are 1% of revenues and fundraising costs are 6% of donations. For every $1 donated, 93 cents go to the cause, falling within Ci's reasonable range for overhead spending. Fresh Start has $3.6m in funding reserves which could cover program costs for 1.6 years. However, when the liquid assets designated for capital projects are removed, the charity's interest-bearing liabilities exceed its liquid assets. This indicates a need for funding.
This charity report is an update that has been sent to Fresh Start Recovery Centre for review. Comments and edits may be forthcoming.
Updated on August 7, 2018 by Madison Kerr.
Financial Ratios

Fiscal year ending December

2017
2016
2015
Administrative costs as % of revenues
1.1%
3.2%
2.9%
Fundraising costs as % of donations
5.7%
8.3%
5.5%
Program cost coverage (%)
163.9%
(47%)
(26.9%)
Summary Financial Statements

All figures in $000s

2017
2016
2015
Donations
2,193
1,067
1,784
Government funding
5,625
156
39
Fees for service
1,364
1,180
1,020
Investment income
3
0
0

Total revenues

9,186

2,403

2,843

Program costs
2,213
2,339
1,859
Administrative costs
100
78
82
Fundraising costs
125
89
98
Other costs
54
58
56

Cash flow from operations

6,694

(161)

746

Funding reserves
3,626
(1,100)
(501)
Note: Ci reports F2016 financials as restated by the charity. Ci has adjusted for deferred contributions, affecting revenues by ($505k) in F2016 and $505k in F2015. Donations relating to capital funding have been included, affecting revenues by $5k in F2015. Amortization for F2015 has been removed from programming, administrative, and fundraising costs pro-rata.