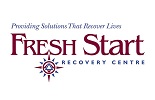 Fresh Start Recovery Centre
411 41 Ave. NE
Calgary, AB T2E 2N4
Executive Director: Stacey Petersen
Board Chair: Craig H. Borgland

Website: www.freshstartrecovery.ca
Charitable Reg. #: 13672 0737 RR0001
Sector: Social Services - Homeless (Addiction Recovery)
Operating Charity
Charity Rating
Donor Accountability
Grade:
A
The grade is based on the charity's public reporting of the work it does and the results it achieves.
Financial Transparency
Audited financial statements for current and previous years available on the charity's website [
Audited financial statement for most recent year
]
Need for Funding
Funding Reserves
Program Costs
Spending Breakdown
Cents to The Cause
♦
♦
♦
95¢
75¢
avg
65¢
50¢

2014

2015

2016
For a dollar donated, cents funding the cause after fundraising and admin costs, excluding surplus.
Impact Rating: High
•
Full-time staff #
28
Avg. Compensation
$60,065
Top 10 Staff Salary Range
| | |
| --- | --- |
| $350k + | 0 |
| $300k - $350k | 0 |
| $250k - $300k | 0 |
| $200k - $250k | 0 |
| $160k - $200k | 0 |
| $120k - $160k | 1 |
| $80k - $120k | 2 |
| $40k - $80k | 7 |
| < $40k | 0 |
Information from most recent CRA Charities Directorate filings for F2016
About Fresh Start Recovery Centre:
Founded in 1992, Fresh Start Recovery Centre (Fresh Start) treats men with alcohol and drug addictions with the goal of restoring them to productive family and community members.
A Charity Intelligence 2017 Top 10 High Impact Charity
Fresh Start has a 12-week abstinence-based residential treatment centre that uses the AA 12-step recovery model and the Family Systems Method. The program is highly structured, with progress testing, individual and group counselling, as well as financial and family reintegration. The house's capacity is 74 beds: 50 beds in phase 1 (primary treatment), 10 beds in phase 2 (second stage housing), and 14 beds in phase 3 (third stage housing). Fresh Start had 132 men enter the program in F2016, down 38% from the year before. Of the 132 men who entered, the majority reported that it was not their first time in recovery. Fresh Start reports that 79% of participants completed the program in F2016, roughly unchanged from the year before. The charity also reports a recovery rate of 55%, meaning that 55% of its clients were clean and sober after one year of recovery in F2016. This is up 4% from the year before.
Through a partnership with Pure North S'Energy Foundation, men in the residential treatment program can also take part in a health and wellness program to improve nutrition and mental health, and reduce the chance of falling ill in the future. The program provides participants with nutrients specific to their addiction recovery plan. After surveying 120 participants in the Pure North program both pre- and post-treatment, on average, respondents reported a more than 22% decrease in levels of anger, anxiety, confusion, coordination issues, depression, fatigue, headaches, shaky hands, moodiness, muscle weakness, and stomach problems.
Fresh Start also offers a 5-week Family Healing Program to support family members and friends who have been affected by addiction. In F2016, 69 men and women participated in the program, up 19% from the year before.
Charity Intelligence has reviewed Fresh Start since 2007 and it is consistently a highly-rated charity with high social impact.
Financial Review:
Fresh Start Recovery Centre is a medium-sized charity with donations of $1.1m in F2016. Administrative costs are 3% of revenues and fundraising costs are 8% of donations. Per dollar donated to the charity, $0.89 goes toward its programs, which falls within Ci's reasonable range for overhead spending. Fresh Start's interest-bearing liabilities exceed liquid assets, largely due to $1.3m in outstanding bank demand loans. Negative funding reserves indicate a funding need.
This charity report is an update that is being reviewed by Fresh Start Recovery Centre. Comments and edits may be forthcoming.
Updated on August 4, 2017 by Katie Khodawandi.
Financial Ratios

Fiscal year ending December

2016
2015
2014
Administrative costs as % of revenues
3.2%
3.2%
3.8%
Fundraising costs as % of donations
8.3%
6.1%
6.9%
Program cost coverage (%)
(47%)
(24.3%)
(48.1%)
Summary Financial Statements

All figures in $s

2016
2015
2014
Donations
1,066,661
1,784,049
1,097,559
Government funding
156,498
39,179
115,159
Fees for service
1,180,043
1,019,890
963,556

Total revenues

2,403,202

2,843,118

2,176,274

Program costs
2,339,322
2,061,567
1,944,265
Administrative costs
77,510
91,399
83,107
Fundraising costs
88,688
109,178
75,801
Other costs
58,446
56,474
55,424

Cash flow from operations

(160,764)

524,500

17,677

Funding reserves
(1,100,287)
(500,716)
(934,304)
Note: Ci reported property and equipment funding in donations, increasing total revenues by $538k in F2016, $5k in F2015 and $25k in F2014. Ci adjusted for changes in deferred contributions in donations, affecting total revenues by ($505k) in F2016 and $505k in F2015.