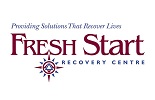 Fresh Start Recovery Centre
411 41 Ave. NE
Calgary, AB T2E 2N4
Executive Director: Stacey Petersen
Board Chair: Craig H. Borgland

Website: www.freshstartrecovery.ca
Charitable Reg. #: 13672 0737 RR0001
Sector: Social Services - Homeless (Addiction Recovery)
Operating Charity
Charity Rating
Results Reporting
Grade:
A-
The grade is based on the charity's public reporting of the work it does and the results it achieves.
Financial Transparency
Audited financial statements for current and previous years available on the charity's website [
Audited financial statement for most recent year
]
Need for Funding
Funding Reserves
Program Costs
Spending Breakdown
Cents to the Cause
♦
♦
♦
95¢
75¢
avg
65¢
50¢

2016

2017

2018
For a dollar donated, cents funding the cause after fundraising and admin costs, excluding surplus.
Full-time staff #
30
Avg. Compensation
$55,122
Top 10 Staff Salary Range
| | |
| --- | --- |
| $350k + | 0 |
| $300k - $350k | 0 |
| $250k - $300k | 0 |
| $200k - $250k | 0 |
| $160k - $200k | 0 |
| $120k - $160k | 1 |
| $80k - $120k | 2 |
| $40k - $80k | 7 |
| < $40k | 0 |
Information from most recent CRA Charities Directorate filings for F2017
About Fresh Start Recovery Centre:
Founded in 1992, Fresh Start Recovery Centre (Fresh Start) is a live-in alcohol and drug addiction treatment centre for men in Calgary, Alberta. Fresh Start reports that 90% of Canadians who need treatment do not receive it. In addition to this, it says that 13.6% of Canadians are high-risk drinkers and 8% of hospitalizations in Canada are a result of substance abuse. Fresh Start recognizes that for recovery to be successful, family and friends must also be able to heal. Therefore, Fresh Start offers treatment for men and a family healing program.
Fresh Start Recovery Centre's 40,000 square foot home has a total of 96 beds (50 primary treatment beds and 46 in post-treatment housing with supports). The house has 26 residents' rooms, counselling rooms, a meditation room, gymnasium, dining hall, weight room, games room, movie theatre, laundry room, wellness clinic, and more. The building is big, vibrant, and designed to feel like a home to create an ideal setting for men and their families to recover.
Fresh Start offers a 14 to 16-week program with one-on-one counselling, group healing, physical training, nutritious meals, and other supports. The program is based on the 12-Step abstinence model of recovery. In F2018, 134 men entered Fresh Start's 12-Step live-in program.
In August 2018, Fresh Start launched its Eleven-Eleven food truck. This project helps Fresh Start to celebrate recovery, reach and educate people about addiction, and generate funds by selling food. The Eleven-Eleven food truck received coverage from local media, and Fresh Start is looking to expand that coverage and awareness in 2019.
Results and Impact:
Of the 134 men that entered Fresh Start's 12-Step live-in program in F2018, 89 men (66.4%) graduated and 81 (60%) men celebrated one full year of recovery. The percentage of successful graduates over the years has decreased from 80.2% in 2016 and 71.9% in 2017. However, the percentage of men celebrating one full year of recovery has been steadily increasing over the years from 54.9% in 2016 to 53.2% in 2017.
While Ci highlights these key results, they may not be a complete representation of Fresh Start Recovery Centre's results and impact.
Financial Review:
Fresh Start is a ­­­­medium-sized charity, with total donations of $1.3m in F2018. Administrative costs are 4% of revenues (excluding investment income) and fundraising costs are 14% of donations. For every dollar donated, 83 cents go to the cause. This is within Ci's reasonable range for overhead spending.
­­Fresh Start's interest-bearing debts exceed its gross funding reserves of $392k. Excluding interest-bearing debts, Fresh Start could operate using reserve funds for less than one month.
This charity report is an update that has been sent to Fresh Start Recovery Centre for review. Changes and edits may be forthcoming.
Updated on June 5, 2019 by Lauren Chin.
Financial Ratios

Fiscal year ending December

2018
2017
2016
Administrative costs as % of revenues
3.5%
1.1%
3.2%
Fundraising costs as % of donations
13.7%
7.0%
8.3%
Program cost coverage (%)
15.3%
163.9%
(47%)
Summary Financial Statements

All figures in $s

2018
2017
2016
Donations
1,305,726
1,793,381
1,067
Government funding
1,762,770
5,625,303
156
Fees for service
1,400,423
1,364,086
1,180
Business activities (net)
(88,989)
(7,965)
0
Other income
379,216
403,209
0

Total revenues

4,759,146

9,178,014

2,403

Program costs
2,568,494
2,212,653
2,339
Administrative costs
164,871
99,699
78
Fundraising costs
179,139
125,121
89
Other costs
46,924
54,202
58

Cash flow from operations

1,799,718

6,686,339

(161)

Funding reserves
391,657
3,625,752
(1,100)
Note: Ci reported Restaurant and food truck sales nets of costs. This reduced total revenues by $109k in F2018 and $8k in F2017. Ci reports F2016 financials as restated by the charity. Ci has adjusted for deferred contributions, affecting revenues by ($505k) in F2016.