STAR RATING

Ci's Star Rating is calculated based on the following independent metrics:
RESULTS REPORTING
Grade based on the charity's public reporting of the work it does and the results it achieves.
DEMONSTRATED IMPACT
The demonstrated impact per dollar Ci calculates from available program information.
NEED FOR FUNDING
Charity's cash and investments (funding reserves) relative to how much it spends on programs in most recent year.
CENTS TO THE CAUSE
For a dollar donated, after overhead costs of fundraising and admin/management (excluding surplus) 84 cents are available for programs.
My anchor
About Ottawa Food Bank:
Ottawa Food Bank is a 5-star charity. It has Good demonstrated impact. reasonable overhead spending and is financially transparent.  
Founded in 1984, Ottawa Food Bank collects, buys, grows, and distributes food to people facing food insecurity across the Ottawa region. Ottawa Food Bank is the major distributor for 112 partner agencies and emergency food programs. These include local food banks, food cupboards, meal programs, social service agencies, and after-school clubs. 
Ottawa Food Bank's 2019 Hunger Report researches the root causes of hunger and poverty, including low income, homelessness, and the high cost of living. The report states that 37% of Ottawa Food Bank's clients are children, including 5% babies under the age of two. Around 60% of clients rely on social assistance as their primary source of income and 33% live in social housing. 
Ottawa Food Bank's main program is food distribution. It also runs various community projects, such as fresh produce farming and food recovery programs. In F2021, the charity reports that 85% of program spending went to programs but does not provide a further breakdown of individual projects. 
In F2021, Ottawa Food Bank distributed $8.7m in food, household supplies, and hygiene products, and spent a further $3.6m on buying food. Ottawa Food Bank CEO Rachel Wilson said that "before covid we were spending $2 million a year on food. This coming year we're going to spend $6 million."
In total, it distributed 7.1 million pounds of food during the year (5.4 million in F2020). In F2021, Ottawa Food Bank also gave out 134k pounds of household supplies (187k in F2020) and 143k pounds of diapers (110k in F2020). The charity states that fresh food accounts for 43% of its distributed food. The remainder of its food distributions includes 33% canned goods; 22% cereal, grains, snacks, and desserts; and 2% baby food. 
In response to the covid-19 pandemic, Ottawa Food Bank created an emergency food hamper program. In F2021, this program helped deliver 3k emergency hampers, adding up to 1.0m pounds of emergency food supplies. 
Ottawa Food Bank also runs other community programs. The charity's KickStart After 4 Clubs program provides healthy snacks to school-aged children and its Baby Basics Program ensures parents and babies have access to baby food and other supplies, such as diapers and formula. In F2021, Ottawa Food Bank funded 11 KickStart After 4 Clubs and provided 251k pounds of baby food and supplies. The charity also runs a Community Harvest Farm, which harvested 168k pounds of fresh produce during the year. 
My anchor
Results and Impact
Ottawa Food Bank states that every dollar donated allows it to buy $5 worth of food, thanks to its industry partners and bulk purchases. In F2021, it provided 1.3m pounds of fresh fruits and vegetables, 556k pounds of fresh meat and poultry, 800k pounds of dairy and eggs, and 404k pounds of bread and other perishable foods. The charity also provided 2.4m pounds of perishable foods and 1.6m pounds of other foods such as cereal and lunch snacks.  
While Ci highlights these key results, they may not be a complete representation of Ottawa Food Bank's results and impact.
Charity Intelligence has scored Ottawa Food Bank as Good impact based on its demonstrated impact per dollar spent.  
Impact Rating: Good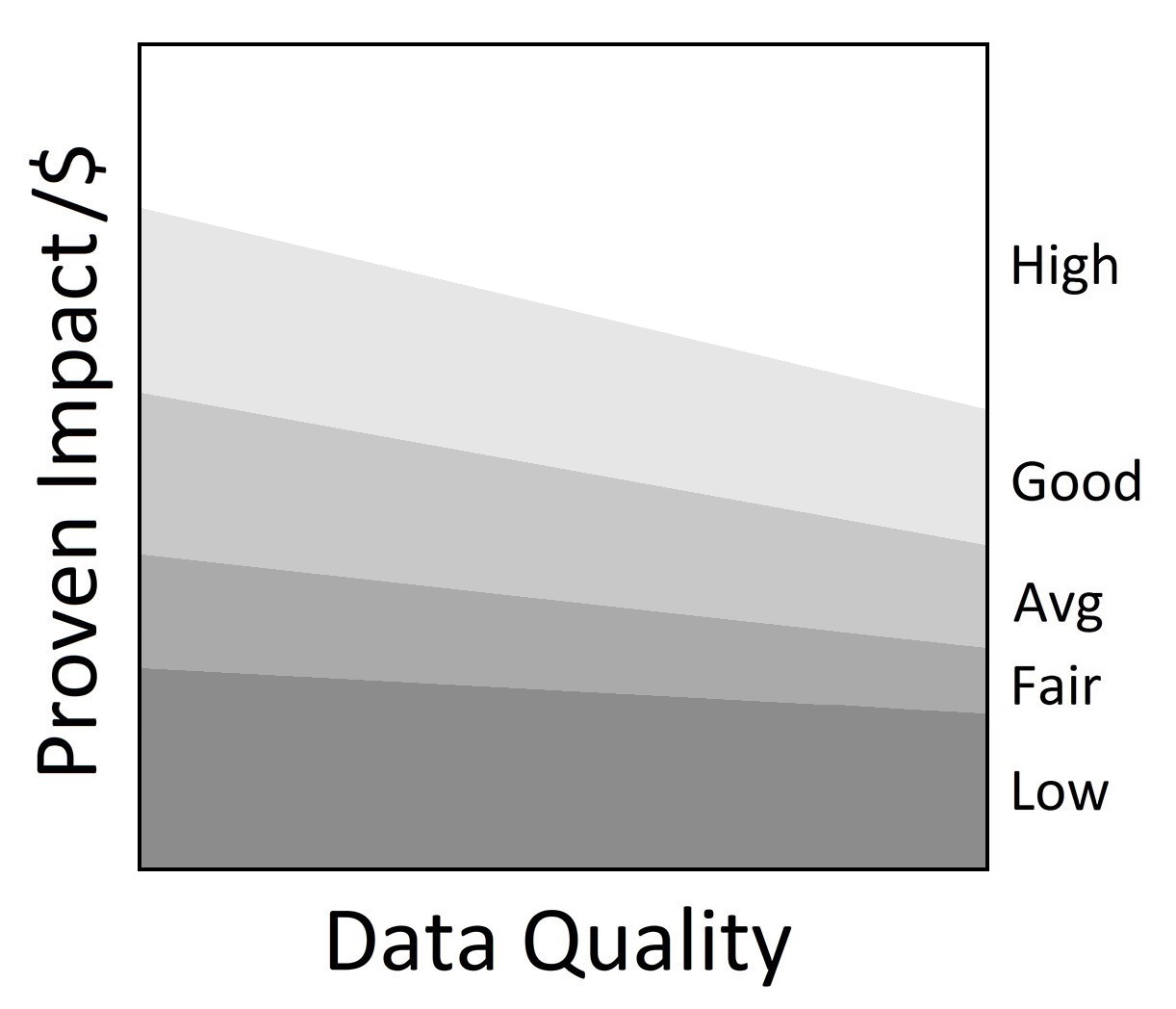 •
My anchor
Ottawa Food Bank received $16.7m in cash donations and special events revenue, as well as $8.7m in donated food and hygiene products in F2021. It also received $428k in government funding during the year. In F2020, Ottawa Food Bank saw a generous community response during covid-19 which led to a $10.9m increase in donations. Donations levelled out in F2021 but still saw an $8.5m increase to pre-covid levels.This Administration costs are 4% of revenues (less investment income) and fundraising costs are 12% of cash donations and special events revenue. This results in total overhead spending of 16%. For every dollar donated, 84 cents go to the cause. This is within Ci's reasonable range for overhead spending.  
Ottawa Food Bank has $19.9m in total funding reserves. Excluding the cost of donated goods, its funding reserves can cover 2.4 years of annual program costs. Increased cash flow from operations due to higher donations during covid-19 has caused an increase in funding reserves of $15.4m since F2019.  
Charity Intelligence has sent this update to Ottawa Food Bank for review. Changes and edits may be forthcoming.  
Updated on June 8, 2022 by Emma Saganowich. 
Financial Review

Financial Ratios

Fiscal year ending September

2021
2020
2019
Administrative costs as % of revenues
4.0%
3.5%
4.9%
Fundraising costs as % of donations
11.7%
9.8%
21.6%
Total overhead spending
15.7%
13.4%
26.5%
Program cost coverage (%)
243.5%
193.5%
96.7%
Summary Financial Statements

All figures in $000s

2021
2020
2019
Donations
14,908
17,282
6,383
Goods in kind
8,705
10,708
9,050
Government funding
428
1,340
369
Special events
1,894
950
1,070

Investment income

112

108

96

Total revenues

26,047

30,387

16,967

Program costs
7,050
5,821
4,434
Grants
1,077
1,221
68
Donated goods exp
8,705
10,708
9,050
Administrative costs
1,045
1,071
818

Fundraising costs

1,960

1,791

1,612

Total spending

19,837

20,611

15,982

Cash flow from operations
6,210
9,776
985
Capital spending
259
408
178
Funding reserves
19,791
13,623
4,355
Note: Ci excluded amortization of deferred capital contributions, affecting revenues by ($90k) in F2021, ($60k) in F2020, and ($19k) in F2019. Ottawa Food Bank includes amortization (a non-cash expense) in its program, administrative and fundraising costs. These costs are broken out in detail in Financial Note 8 of its audited financial statements. Ci consistently shows OFB's program, administrative and fundraising costs before amortization charges. As such, our figures are slightly lower than what OFB reports in its annual T3010 filing. Ci used the charity's T3010 to report cash grants to donees which were adjusted out of program expenses. 
Salary Information
| | |
| --- | --- |
| $350k + | 0 |
| $300k - $350k | 0 |
| $250k - $300k | 0 |
| $200k - $250k | 0 |
| $160k - $200k | 0 |
| $120k - $160k | 1 |
| $80k - $120k | 4 |
| $40k - $80k | 5 |
| < $40k | 0 |
Information from most recent CRA Charities Directorate filings for F2021